Campaign Management, Social Media
Making the Baker's Dozen India's bread
An Introduction
The Baker's Dozen started in 2013 with our love for sourdough, the pate ferment and with a strong culture of what makes a bread sing. It all started from a small kitchen and store in Mumbai. From the humble beginning of 25 loaves of bread on day one to today, almost 8 years later, where more than 10,000 loaves of bread a day are crafted and shared across India, the story of The Baker's Dozen is one of passion, tenacity and ambition.
The Baker's Dozen brought many firsts for the industry in the country. They contextualised sourdough production to Indian conditions and ingredients without losing it's essence and brought state-of-the-art packaging technology.
Making The Baker's Dozen a brand to be reckoned with in a country where historically bread production has been fragmented and it's consumption seen as discretionary is no easy task. We also knew it presented an opportunity – and we aligned with the founders Aditi Handa and Sneh Jain and their vision – to make this opportunity manifest as reality.
10%
Online sales contribution & growing
What we do
Performance Marketing
Social Media Management
Content Creation
Influencer Marketing
Industry
FMCG
Challenge
The brief was to leverage this greenfield opportunity by creating awareness and recall for the brand – all the while educating them on the category and product itself. The online space offers a unique space to both reach a core, bread & sourdough educated audience – and then expand to reach more new customers across cities in India.
Our association with the brand started many years back, but with the global coronavirus pandemic at the start of 2020, a few serendipitous outcomes aligned which could transform the scale of the brand, it's online presence and sales.
Full disclosure here: there were multiple steps taken by Sneh and The Baker's Dozen team that enabled us to do our job better.
Scaled production and operations for increased demand
Forward invested in packaging technology that increased shelf-life without compromising on quality
Trusted us (against results of course) to pursue directions that could help the brand
Over the last few years, the pace and scope of our digital activities has varied. The one constant has been our partnership with Bonoboz. We have been able to rely on them for ideation, strategy creative execution on brand saliency. But more recently when the time to scale rapidly arose on the audience and e-commerce vertical – I was encouraged to see the ability to engage other service areas they have built over time – and seamlessly transition to a higher gear. True partners in growth.
Sneh Jain
Co-founder and Director, The Baker's Dozen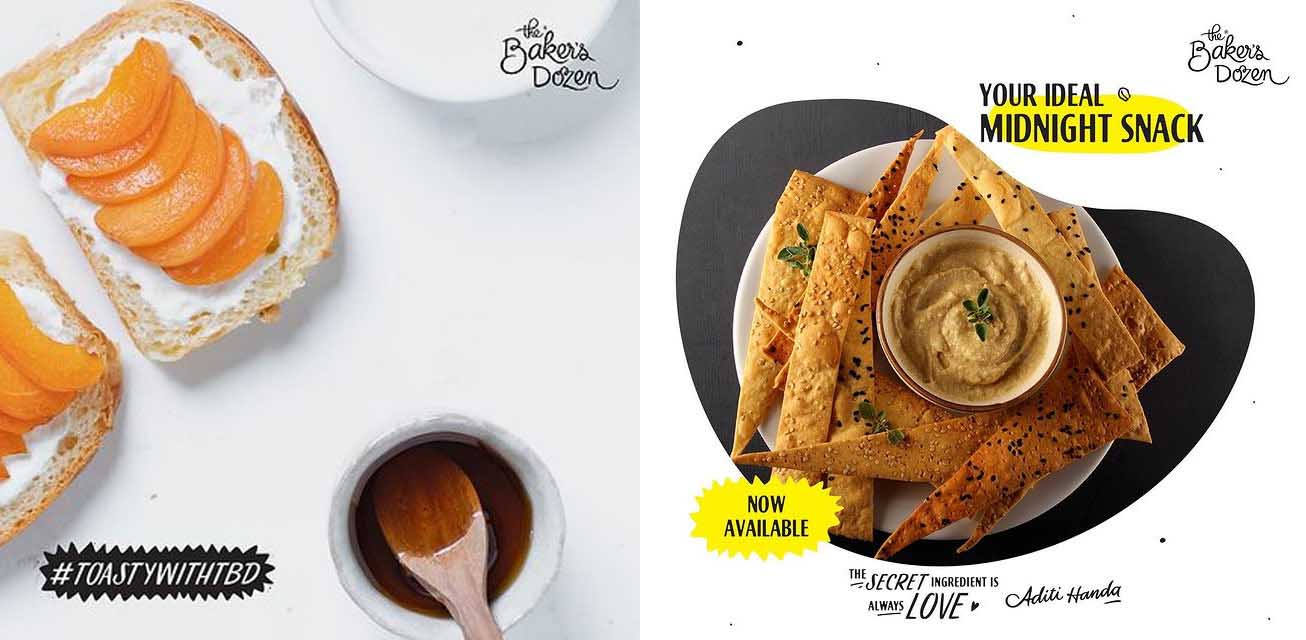 What we did
As soon as the national lockdown in India was announced, all operations were shrouded in uncertainty and doubt. But within a few days, it became clear that The Baker's Dozen would be allowed to operate, with safety precaution in place, as it was an essential service.
With this, we kicked into overdrive to make sure we used our digital channels to let customers know that while a lot of businesses were going to be impacted, supply of The Baker's Dozen products was going to largely unaffected.
Given the overall mood at the time, we made sure that all collaterals held a tone of voice that was respectful and sensitive. A lot of the TBD team rose to the occasion with a sense of duty – and we resonated this in the communication.
Buoyed from the data insights from this new content, we got a whiff of an opportunity. With almost all advertiser's pulling budgets, online and offline back, it presented a window for the brand to actually capitalize on low ad bids and lesser competition. And the fact that operations were on supported this proposed strategy.
It was still a risky proposition at the time, but when we presented our data to Sneh, we got a go-ahead to go all out given what the early experiments and those numbers were indicating.
Exhilarating as it was, we started off with meticulous sync on the communication, creatives and media buys. We also made sure that we experimented with multiple audiences across different interest attributes and cities to make sure that while we cast the net wide, we don't end up reaching people that may not eventually become a paying customer and patron of the brand.
As we rolled out, each piece of content was tracked against spends and results. A strict filter was applied to non-performing content and budgets were moved to content that brought in the right visibility and customers.
All the while, we made sure not to alienate the core, loyal and informed audience of The Baker's Dozen by creating organic content of interest with product recipes, home-baking tips and a lot more to support the influx of new customers that we were seeing join us on Instagram.
View this post on Instagram
View this post on Instagram
Once the website and online ordering portal was ready, we leveraged smart campaign planning to make the most of the increased awareness built in the first few months of lockdown to convert eyeballs into paying customers through orders and revenue. This division of brand awareness and reach followed by conversions helped stack up the digital funnel and achieve scalable revenue online with a healthy return on ad spend (ROAS)
Results
Increased Instagram audience from 2k followers or 12k+ followers and counting in less than 4 months
Generated a order stream of 300+ orders per month – a completely new sales channel – across 5 cities in India (and growing) with healthy ROAS
Most importantly, established a strong roadmap for sustained growth using digital platforms from a full funnel perspective – right from pre-sales – discovery & awareness to the actual sales conversions.
Write in to us!