Campaign Management, PPC Management, Social Media
Building a luxury real-estate brand [Case-Study]
To the top of digital real estate food chain in Ahmedabad
Swati Procon is a second-generation real estate company based out of Ahmedabad. It was built on first principles – provide great quality real estate at an affordable price and win the trust of customers.
Over time, this trust pushed the brand to knock on the doors of more premium and luxury products and this required a rethink of brand, communication and social media.
17k+ followers
Largest Real Estate Instagram following in the city
1500+
Above average MQL %
What we do
Performance Marketing
Social Media Marketing
Industry
Real Estate
Platforms
Instagram
Facebook
Challenge
Our challenge – to present a direction and then execute on a path to building Swati Procon into a brand that offers products in the premium and luxury space. To break out on social media and establish the brand's rightful place as one of the top real estate brands in the city.
What we did
Break away from the pack

The digital space in real estate is inundated with formulaic content. Building 3Ds complemented with a plethora of superlative adjectives and a never ending list of amenities. The competitive landscape was crowded – and the pilots of the brand – Saket Agrawal & Ankit Kothari – were clear in their brief: we had to break away.

The way to do this was introduce story telling to the content drip. To invoke feelings about what Swati and it's projects stood for, instead of plainly spelling them out. Yes – it was a risky approach – but it was necessary to establish Swati's spot in the digital sunlight.

Good design as a language of luxury

Visual experiments with layouts, fonts, typography were par for the course and extensive. Establishing a visual vocabulary that could be extended in everyday content was important. Further – it had to meet to criteria: it needed to reflect the values of the projects that Swati is building and secondly, it had to resonate with the audience. Anything that would alienate the client base was a no-go. To make aspirational but not alienate became a true north for the team.

Build IPs (Swati Studio, Real Estate, Real Insights)

Now that the foundational content was in place – we worked on co-building IPs with the excellent brand team Swati has honed.
Swati Studio – inspired in part by Coke Studio – is an IP that celebrate art and talent from the local fraternity. Curating beautiful music and building a community of creators who are masters at their skills. By associating with excellence, Swati looks to be an ally to the arts and all those in the pursuit of excellence and perfection in their sphere.

Real Estate, Real Insights – for many the world of real estate is an enigma. With an informative and engaging format, this IP was conceived and built to bring people in on the inside and hear from the experts. Demystifying real estate for the larger audience while strengthening ties with Swati's stakeholders.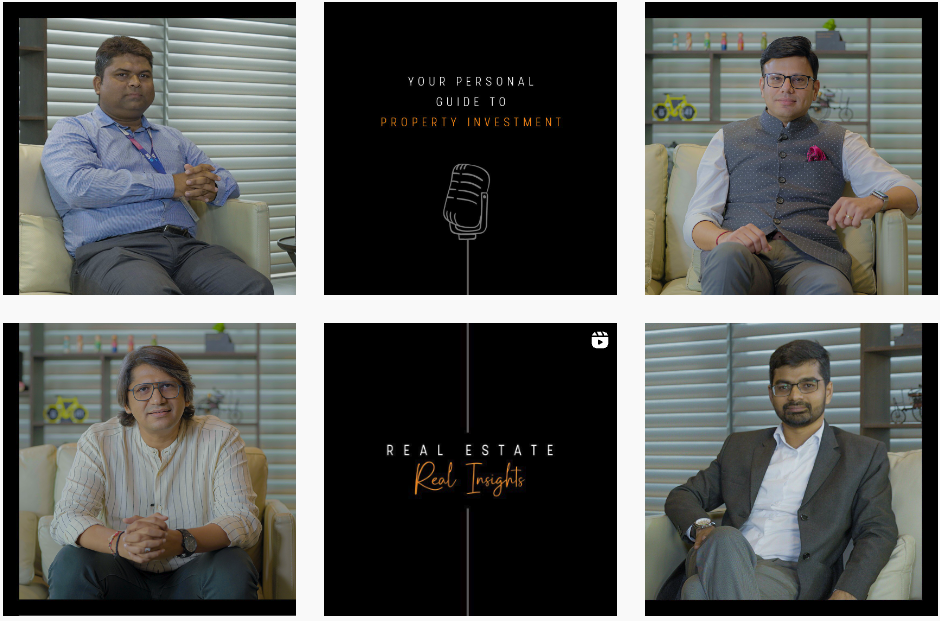 Events – build relationships and collaborations with authentic creators in the city that resonate with values that Swati stands for and reinforces their motto to 'celebrate life'. For 2 years in a row, we collaborated with Anokhi Shah or better known as chefinthemaking on Instagram.

One often overlooked aspect in social media marketing is execution and cadence. To establish top of mind awareness of digital takes relentless execution at high frequency and for sustained period of time. Along with the support of the Swati brand team, we were able to complement their content and build a narrative
Experimentation and scaling  
Once we had the foundation in place – the visual grammar to create consistent content, IPs and content that created recall and a high cadence to the Instagram account it was time to push it out and scale the community.
With a meticulous mechanism to experiment with different content and it's response with the community, we were able to grow the community from 1.5k followers to over 17k followers in a rapid, yet judicious manner.
Results
We were able to successfully create a mark for Swati Procon in the competitive landscape. It became clear that it was making a mark through it's Instagram profile and noticed widely in the industry.
More concretely, we were able to achieve the goal of building the largest Instagram community for a real estate brand in Gujarat while building a beautiful Instagram community that resonated with it's stakeholders.
Write in to us!