3 Ways You Can Use Voice and Visual Elements to Optimize Your Online Presence
Bonoboz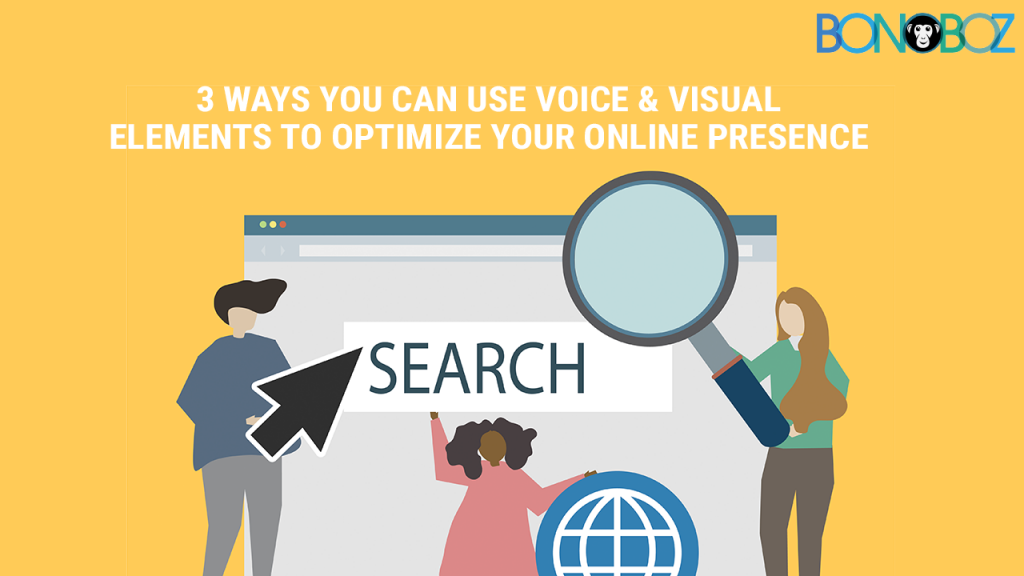 In the last few decades, the power of content has only increased, and it's been true for visual elements too. Every SEO company in India today believes that more a piece of content incorporates images, the more it piques the interest of people. Similarly, voice elements are also gaining significance in the online marketing and SEO services world with the advent of technology, such as Amazon Echo and Google Home voice assistant.
Visuals make a content compelling enough for the audiences to stay on a website longer, but often the voice searches are credited for actually getting a website featured on the SERP.
So, in what way should an SEO expert agency today bring changes, so as to build a more conversational and compelling user interface and experience?
We have here;
3 ways you can use voice and visual elements to optimize your online presence

Prioritize Your SEO
Many people aren't aware that image and voice searches to have important roles to play in search engine optimization. When it comes to voice searches, most of these are local searches. It's people looking for the best Italian restaurant in town or the nearest movie theater. It becomes, therefore, more imperative for local businesses to ensure a strong SEO to build their online presence. The SEO strategy, in this case, should take into account, queries based on local conversations and such that are specific to that location.
Any SEO expert in India would tell you, that optimizing images is not too difficult. You only have to know the right keywords, and use them everywhere, from the image title to its description, the alt text, and such. The size of the displayed image and the image dimensions should match. If you want to further reduce the loading time of your page, decrease the image size. In order to make the scanning of the page easier, add a caption as well. These might not get displayed on your site or any of your social media pages, and still, every decent SEO services company in India would recommend this. The reason is, the search engines will definitely read as well as use these to compute your website's search rankings.
Make Use of Visual Content in Your Blog
One of the most amazing mediums to attract the attention of the target audience, our blog posts. A blog post is a tool which helps engage users with the help of well-made and powerful content. But, a blog post is only good if people either like or comment in it, or share it further. It is through people sharing your blog post on various social media platforms that will eventually get it the exposure it needs.
Umpteen number of Internet analysts till now have told us that more than the text-only content, it is the inclusion of images that creates higher engagement. To incorporate visual content will allow your readers to better understand your message in a shorter amount of time, without having to think too much while reading. Visual display will also make it easier for the people to recollect all that information long after they've read it. Finally, so many blogs have a list of very important takeaways that one wants the readers to remember. If presented in the form of an image, or an infographic, amongst other things, that goal can be easily achieved.
Start Optimizing for the Answer Box
Not everyone who uses voice assistants quite often knows where the assistants pull up their answers from. The concept of the answer box is not too known even amongst the most ardent users of voice assistants.
Let's say, your voice query is, "Tell me Google, which is the best SEO company in India?" Google search engine will give you your answer, and you'll see that the assistant will credit the website from which it actually pulled out your answer. If you type in the same question in the search box though, the assistant will read out the first search result answer for you. This is what an answer box is, and it also goes by names like position zero, or featured snippet. In order for these assistants to read out the answer from your site – that is, for your brand to be the first in SERP and give out the features answer, you'll have to start optimizing for the answer box.

In conclusion…
Today, every website design company knows that voice and visual elements are here to stay. And it is up to you to figure out how you can make the best of these significant online marketing trends, in a way that's tailor-made for your business.
The above tips should help you in the endeavor of getting a clearer picture of how you can better engage your audience by making good use of voice and visual elements.
Related Articles: