How to Know if Your SEO Campaign has been a Success
Bonoboz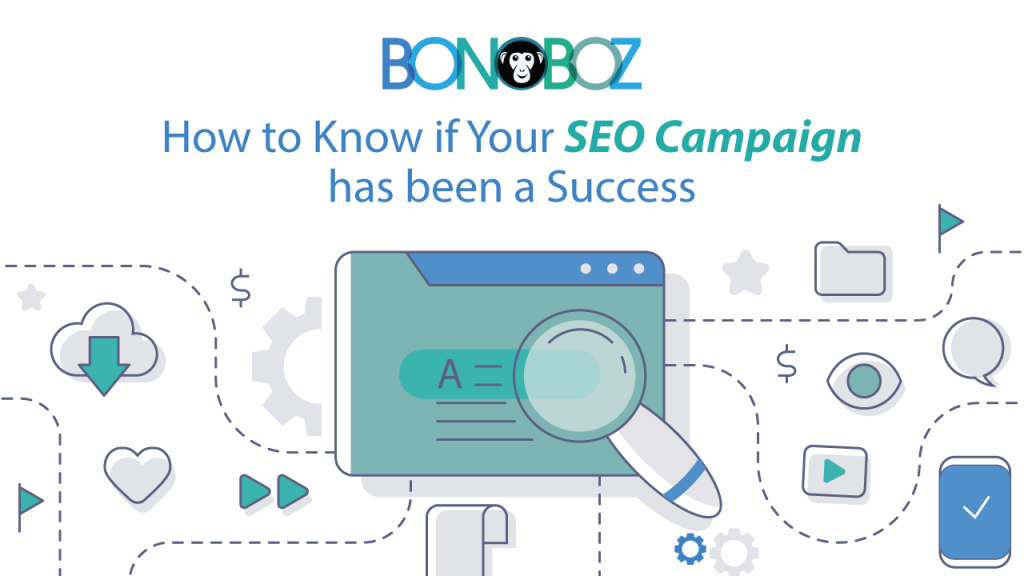 What makes one the best SEO company in India? Or, what differentiates an SEO expert from the crowd of SEO service providers in the country?
While everyone makes a good effort, few are able to analyze the outcome of those efforts and time put in. The best in the game is the one who knows it's important to ascertain whether the financial and other resources spent in driving traffic towards a website have really been a good investment or not.
So, what are the ways to measure that success? How does one take account of the return on investment made by a company in terms of all the SEO strategies and campaigns it's indulged in?
Here's the answer…
The Quality of Your Traffic
A sudden upsurge in traffic could look like good news from afar, but on closer inspection, you might find it otherwise. What it means is, that if the high traffic experienced by your website is relevant to your site's offerings, then nothing's better! But, the unfortunate fact is, most of the times the SEO tactics attract traffic having no relevance whatsoever to your site; you cannot expect these people to stay on your site for too long. The chances of this traffic leaving right after they land on the homepage is always extremely high.
It doesn't take an SEO expert agency to know that the quality of the traffic, therefore, has an undeniable bearing on whether or not your SEO tactics have worked. This is the kind of traffic that you expect to convert into your site's customers. Have a good understanding of your audience, and keep checking it with your site visitors, by analyzing the time they spend on your website, their bounce rate, the pages they tend to look at, every time they visit. You will get an idea about their engagement with things like rising bounce rates, shortening time spent on a website, and so on. This is how will know you need to seriously re-examine your SEO method because the return on your SEO investment surely has to be the conversion of your traffic into customers.
Increase in Organic or Non-Branded Traffic
The fact that your website is garnering a lot of traffic is a great news; but, you still have to find out whether or not this traffic is organic or not. That means, you don't just want people to search for your brand name, find your website on the search engine result page, and click on it. You also want people to find you on SERP through keywords that related to your business, industry, product, or service. In fact, the latter kind of traffic is the one that you want to drive the most to your site, because these are people who were looking for a specific thing, and due to your SEO efforts, found them ranking high on SERP, which then made them into your visitor. They might have never heard about your before, but are now apparently in need of your products or services, Every provider of SEO services in India can tell you, that the kind of traffic you get through branded keywords could be your existing customers revisiting you, while the organic traffic shows you the number of new people coming to know of your business. Of course, the latter will show you how successful your SEO strategies have been till date.
An Increase in Inbound Links
One of the favorite ways for an SEO services company to know whether their efforts have bore results or not is by taking inbound links into account. When another website out there links to yours, it denotes a certain level of trust and confidence. Therefore, it's a gesture not taken too lightly by Google, who look into what the company is, in fact, an expert in, and up their ranking accordingly. Increased revenue, which is a result of increased traffic, which comes from better search engine ranking, is what you get if you gain more visibility. And the best way to increase visibility is by increasing the various kinds of sources of inbound links to your site.
But you can't lose patience with this process. The key is, analyzing it all over a period of months – it could be three, six, or twelve – to have a thorough understanding as to what content on your site is helping it draw most of these links. Look at the blogs, white papers, infographics, product descriptions, and so on, and find out what really made those high quality links drive towards your website. You will thus come to know what does and doesn't work for your website, when it comes to future digital marketing strategizing efforts, especially in terms of content.
In conclusion…
In the end, it's clear that an increase in traffic is only one factor to consider; the more important thing to know is the quality of that traffic. You want only those people to be driven to the website who are actually interested in your products or services; the true ROI when it comes to SEO is, getting an increase in visitors who have a high probability of converting into your site's customer.
Related Articles: