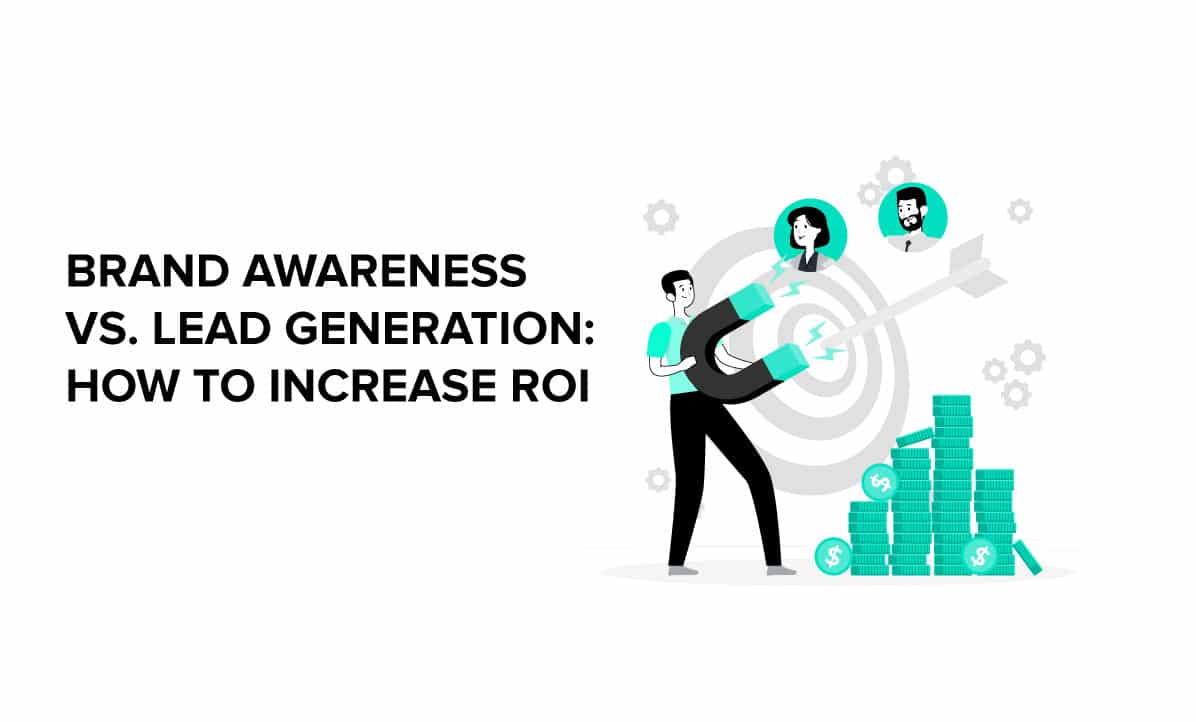 Brand Awareness versus Lead Generation: When and where to invest to increase your ROI
Bonoboz
Brand awareness and lead generation are among the two very powerful of all aspects of digital marketing activities. If done right, they can heavily impact a business. However, what a lot of businesses don't know is the right time to use them. Every business, be it a startup or established will require both these digital marketing activities to ensure a high ROI.
So, when is the right time to strategize a brand awareness campaign or a lead generation campaign? At Bonoboz, we've done both at different stages for each of our clients. That is why, in this post, we'll tell you all you need to know about both these marketing activities.
The meaning and significance of brand awareness
You see a right tick mark stylishly adorning a pair of sneakers and you know it's Nike. Or, you sit by a bench that's red with a yellow 'M' written all over it, and it's the Mc Donald's brand. You think of a round label with a white and green engraving of a face on a cup, and it's the Starbucks brand. Anywhere you go, you see popular brands that want you to recall them based on a certain symbol or logo, and so on. This is nothing but the outcome of brand awareness done right!
To put it simply, you are aware of a brand because of all the aspects of digital marketing that they fit into their strategy. Every startup that wants to get noticed among its flourishing competitors will need a solid brand awareness strategy. Furthermore, every established brand that wants to push out a new product or service will require an effective brand awareness strategy.
How is brand awareness executed?
If we have to spill out a few secrets, then we'll go with brand awareness first. Once you are familiar with how to approach a brand awareness strategy, there's no turning back. 
Now, let's break it to you in this way – brand awareness does not begin with releasing a promotional video. That's not step 1! The first step is to put all brains involved together to understand what your brand is all about.
Step 1: Create your brand's personality – It is necessary to build your brand as though it was a person. What does Nike feel like when you think about it? What does Starbucks feel like, or Mc Donald's, or Burger King, KFC? They all feel different, and that's because they represent different personalities. How do you develop a personality that's unique only to your brand?
Consider your brand as a friend, unique, flawed, contradictory, but memorable. Your brand is customer-centric indeed, but so is everyone else's. So, it's not what your brand is, rather 'who' is your brand. It's a caring brand, a thought-leader brand, a self-respect brand?
There are among many personalities that you can choose based on the needs of your target audience. This process will help you create communication that resonates with your target segments.
Step 2: Connect with your audience without having to sell – You want to develop a lasting relationship with your target audience. We live in a day and age where attention is not given unless it's a friend, a family member, a close relative, or a significant other. As a brand, you want to come off as that go-to person when you need something important. Your products and services come much later; it's first all about giving your target audience what they want.
Being a good listener makes you the best friend anyone could ever have. Social media proves to be the best place for this kind of communication. Allow your audience to express themselves rather than pushing what you want to say. Want to know how to create a great social media marketing campaign? Bonoboz can support you with some great concepts and strategies, including executing it all.
Step 3: Have a backstory – You recall your favourite character because they had a backstory. It goes further than this for a brand, because the story is true plus it humanizes your business. You're not just a sales company with a product that works; you're an organization that has a human side to it.
Step 4: Spread your feathers of popularity – Once you've established a backstory to your brand that's true, it's time to leverage on that! Start producing content, products and services that you can easily share, encourage comments, and create engagement.
Also, create avenues for people to start talking about your brand. Word of mouth is the most powerful recommendation any brand can receive. For instance, when you ask a tech-savvy friend, "Hey, I want to buy a new laptop because my old one is frozen. Which brand do you think I should check out first?" They'll give you precisely two to three brands that make the top of the list. You want to come within that tight bracket as that should be your benchmark to reaching popularity.
So, allow adding all aspects of digital marketing here, right from advertising campaigns, content marketing, social media posts, and sponsorships, etc. These should be easily shareable while leaving a lasting impact on your customers.
All that said, for any brand the 360-degree approach is very important, which means adopting this strategy:
Guest blogging, featuring videos on Instagram, YouTube channel, etc.

Put a face to your brand like a brand ambassador or a face that's common on all your company ads. 

Partner with complimentary brands (not competitors) that go hand-in-hand with the message of your brand. So, you benefit that brand and they benefit you.

Run lead generation ad campaigns (we're soon coming to this – read more below).

Make a catchy but long-term message that you want your target audience to remember you by! It should be socially conscious, memorable and impactful.
Why bother running a brand awareness campaign for your business?
You've by now pretty much understood the significance of running a brand awareness campaign. Still, many businesses want to reach the finish line without running the race. Here are a few advantages that tell you why you should run a brand awareness campaign.
Effective brand awareness increases customer loyalty.

Good brand recall encourages customers to consider purchasing from your brand first.

Develop a long-term relationship with your customers.

Customers recommend your brand to their friends and family, creating more brand awareness.
While the above pointers are brief and to-the-point, they've got a world of benefits for your brand. Want to create the perfect brand awareness campaign for your brand? We're your guys!
That said, run brand awareness campaigns once you've laid out the foundation of your products and services. Once you've developed a good number of potential clients on your list, it's time to run lead generation campaigns. This is the next crucial step to seal the deal with your clients and increase your ROI.
The meaning and significance of lead generation
If you want to make your target audience your actual customers then generating online leads becomes your next step. A lead generation campaign is nothing but the act of creating more leads, that is more customers. It's about getting people to know that your business sells products or services of interest to them.
These are ad campaigns run on different channels like Google, social media, emails, and so on. Various tools are used by marketers to generate leads like blog posts, social media posts on Facebook, Instagram, YouTube, LinkedIn; online content and live events.
How is lead generation executed?
When developing a lead campaign strategy, remember this noteworthy concept: you don't want to sell. This means that you don't want their attention to buy your product. Tricky but not really! What you want to do through a lead generation campaign is earn your customer's attention and get them to take action. Let's see how you can turn a person from your target segment into an actual customer.
Just like brand awareness, lead generation too has a set of stages to achieve before reaching out to a customer. While you venture into taking on a lead generation campaign, you must consider what stage your audience is in, and each individual is in a different buyer's journey.
Here's what you need to look at:
Stage 1: Brand Awareness – A person new to your products or services is at stage 1 where you are offering them a chance towards the awareness of your brand. This stage pretty much sums up your brand awareness campaign.
Stage 2: Attraction – The individual who is now aware of your brand is encouraged to visit your brand. In this stage, they want to get to know more about what you have to offer.
Stage 3: Outreach – Give them a reason to take a piece of your brand with them before leaving your site. If they have downloaded your content, visited your website frequently, and started to communicate with you, they're called leads. They could be your subscribers whom you can convert into leads. The different outreach programs that you use to convert your leads are what will get them closer to the completion of your buyer's journey.
Stage 4: Conversion – One of the most difficult yet easiest tasks if you've done the above correctly. It's easy to bring your customer to the point of a sale, but now is where the real action begins. In fact, this is the moment you've been waiting for, and it has to be right. The conversion stage involves negotiating with the client regarding pricing, conditions, and so on to convert them. That said, how your brand treats the customer after a purchase is also VERY IMPORTANT. Consider your customers your brand ambassadors after they've purchased your products or services.
Stage 5: Retention – Yes, they purchased your product, but this isn't the end of their time with you. While you work towards acquiring more customers, your existing customers should not gravitate towards your competitors. So, make sure to include post purchase promotions, which includes more discounts, loyalty rewards, customer service and support, feedback, etc.
There's a lot more that goes into all the aspects of digital marketing. You might want to reach out to us to streamline your buyer's journey and increase your ROI.
Why bother running a lead generation campaign for your business?
With the fruits of your lead generation labors, you get to taste the following:
Expand your market and shorten the gaps between you and your customers.

Grow your customer base as they follow you through different channels like social media, emailing, etc.

Resonate with your target audience through the content you create while setting up lead generation campaigns.

Increasingly grow your chances of profitability.
There's so much more that you need to know about brand awareness and lead generation before embarking on the same. We suggest you allow us to take the lead on assisting with converting your customers into long-term buyers.
Related Articles: