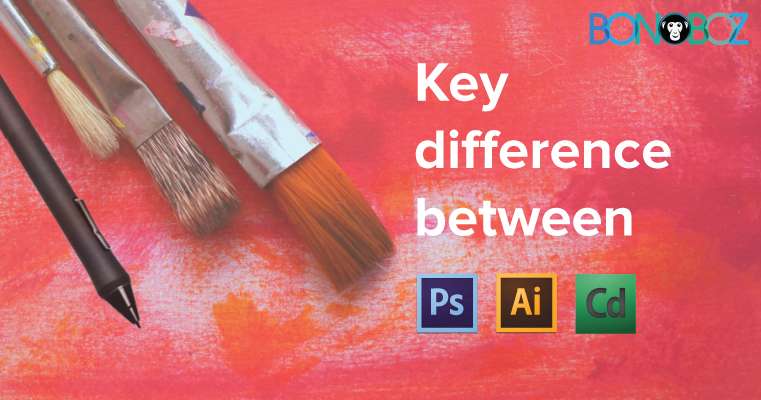 Key Difference Between Photoshop, Illustrator and Corel Draw
bonoboz
The design is everywhere around us. Look around you, and you will find the proof. The house you live in, the products that you are using (even the digital device in which you are currently reading this very blog post), advertising, almost everything except life itself, is the fruit of design. From engineering to medical, arts to business streams, the design is the thread that ties them all. Here is the key difference between Photoshop, Illustrator and Corel Draw.
Design is not just what it looks like and feels like. Design is how it works – Steve Jobs
We believe that designing is the soul of any product, brand, marketing, website and every commercial thing. Any campaign including infographics design services requires proper design to engage people.
Design and graphics are the reason you have a breathtaking experience in the movie, eye catchy and best user interface on a website. From mainstream marketing to digital marketing, designing is the dominant factor in driving maximum success.
It is the overall structure of any physical and virtual object that gives you a delightful experience since it satiates human senses through depicting the relevant shape, space, emotions, shape, and color.
That being said, in the digital industry, design plays an important role because the digital industry is entirely virtual. Your brand value and market image ultimately depend on what you show to the people and to showcase yourself, company, product, services you require robust and best design.
Key Difference Between Photoshop, Illustrator and Corel Draw
May tools be with you!
Yes! Like the famous Star Wars dialogue "may the force be with you", to stand out in the fierce competition of the industry, you need to have software and tools that give the force to your success in design.
There are lots of software and tools available online and offline through which you can create a masterpiece, but Photoshop, Illustrator, and Corel Draw are that three software that would give you leading edge in your competition.
Before you start installing and using these fantastic tools for your artworks, consider the difference between this software and as per your usage, requirement, and objectives you should pick a suitable one.
I have been working for several years with Photoshop and have gone through every amazing feature it has. With that being said, it is evident I would say Photoshop is the best among all. The same is also possible for any professional who's working in CorelDraw and Illustrator. You need to understand the clear difference between this software.
Photoshop is the web graphics sovereign
Thomas and John Knoll have created Photoshop which is now produced by Adobe Systems. The software is raster graphics editing system. Raster means pixel which is a logical value referred to as a dot size of a display screen.
Photoshop is the best software to edit images. If you want to edit a couple of parts in a picture and want to share your Facebook page or Twitter profile, then Photoshop can be an excellent tool for you.
Its elements and features would let you edit the pictures effectively in lesser time compared to other tools. Also, images for websites, presentations, photo editing, touchups, infographics design services can be done comfortably in Photoshop.
If you want to create a banner or posters for mainstream marketing/advertising channels, then you should not go with Photoshop because it works on the pixel. If the image has to have a fixed size, if the picture is zoomed in or modified, it may look weird.
Though Photoshop does provide 3-D image sharing functionality in its updated version, it may not be up to the mark if you are trying to edit graphics for banners and posters as the picture would be faded.
Illustrator and Corel Draw: We Understand Vector
Illustrator was created earlier than Photoshop. While Photoshop was developed to help photographers, Illustrator was made to help designers in typesetting, typography & creating logos.
Illustrator is now used for creating artworks for digital and mainstream platforms. With that being said, currently both of them, Photoshop and Illustrator are ruling the market.
Illustrator is a vector-based designing software which means it doesn't understand the idea of pixels. In other words, whenever you drag and drop an image in illustrator it will be converted into a vector image.
The enlargement in the picture would not affect the quality of the picture, unlike Photoshop. Hence even if you zoom or stretch the image, the quality would remain intact, sharp and clear.
Layers in an Illustrator image contain multiple layers while in Photoshop you have an only single layer.
Corel Draw was created by Corel Corporation, in 1987. It was the first graphic designing software which supports vector graphics. Illustrator's latest version is named as X4 and Illustrator's CS4.
Today, Illustrator is mostly used in logo design, brochure design, 3D graphics, etc. while CorelDraw is used for not only the logo but hoardings, visiting cards, pamphlets. Mostly both of them are more useful in mainstream advertising.
People have also experienced that CorelDraw is easy to learn, unlike Illustrator and Photoshop which require a deeper understanding of their tools.
Though you may find that the way colors are previewed during a print preview in CorelDraw is not as good as Illustrator. This is because Illustrator is a postscript file format, & hence it renders a more accurate print preview.
Conclusion
Now, it all comes down to the question 'What is the purpose for which you want to create graphics'. This 3 software is excellent in their forte. As one of the best infographics design company, we can tell from our experience that all of them are made up of unique features so it is up to your requirement that you must decide to use which tool.
| | | | |
| --- | --- | --- | --- |
| | Photoshop | Illustrator | Coreldraw |
| Software type | Raster/Pixel based | Vector based | Vector based |
| Most used for | Best for editing photographs and applying various effects | Best for creating graphics from scratch | Best for making barcode, packaging and gift vouchers |
| Most used by | Photographers, artists | Graphic designers, UX designers | Graphic designers |
| Artboards | One | Multiple | Multiple |
| Undo | Single step backward | Multiple steps backward | Multiple steps backward |
| Work area | Within artboard | Can work outside artboard | Can work outside artboard |
| Saving time | Fast | Slow | Faster than Illustrator but slower than Photoshop |
Related Articles: