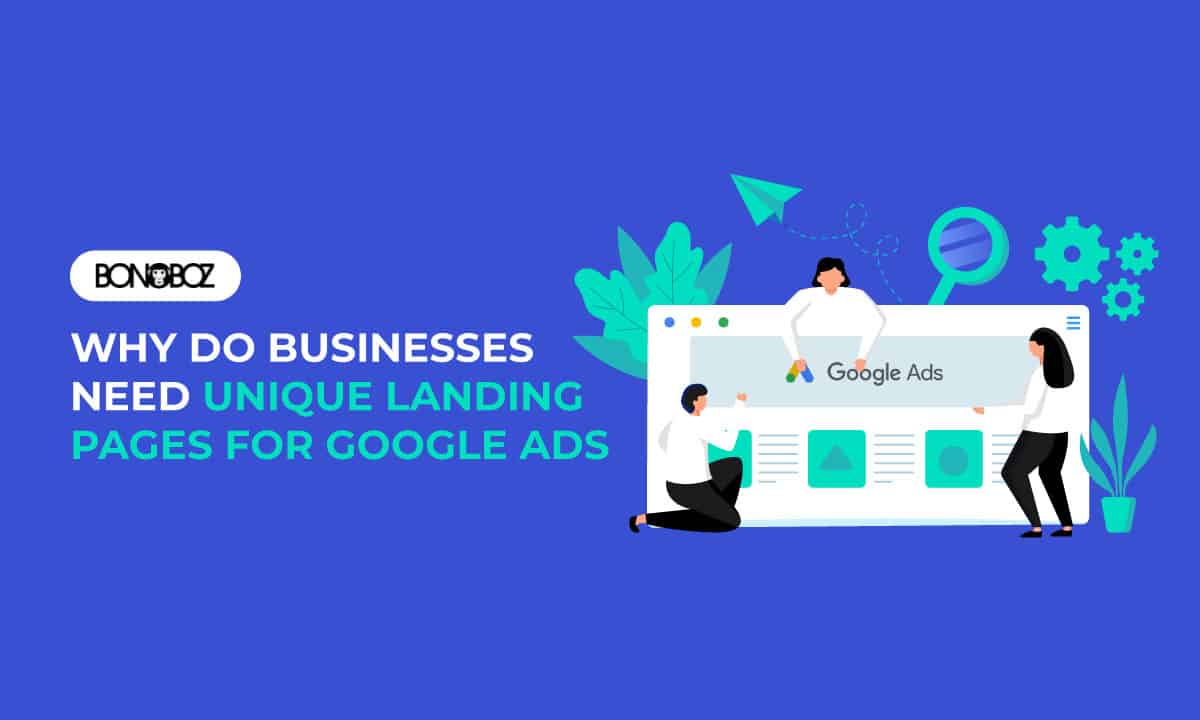 Why do Businesses need separate landing pages for Google ads?
Bonoboz
If you own a business and are using PPC ads to direct users to your website, you're doing it wrong. How will you know you're doing it wrong? Because people are visiting your specifically targeted web page through Google ads but they're leaving without following up. You can see an ever-increasing bounce rate on your web page. 
Well, a reliable and professional PPC management agency will reveal the real reason. Point paid traffic to your generic web pages does not convert as it should. The visitors are unable to find what they're looking for specific information on your web page. The result is that they don't convert and you end up wasting precious budget on running PPC ads.
There are reasons associated with creating landing pages, including its benefits which we will talk about in this post. We will also explore the commonly essential elements of a landing page.
Why your business should target Google Ads to landing pages rather than web pages
Reach out to us, one of the most reputed PPC companies if you wish to boost business with paid ad campaigns. We can fill you in on what works and what doesn't work when it comes to directing users and implementing Google Ads.
PPC uses landing pages as the holy grail of leads where users are directed from an ad to a specific page. This page is designed to emphasize a campaign goal. 
Your website may fulfill this aspect of guiding users and possibly converting them. However, most web pages are more informative than action-oriented. With more informative pages, the user gets to learn something but not take action like buying an item or signing up for a newsletter. It's like taking the user for a 15-minute long ride when all they needed for a 2-minute walk.
Whereas, on a landing page, you can design and create content to meet the visitor's goals associated with your business. Simply put, you can choose to direct the visitors and lead them to their exact requirements. 
Therefore, visitors can click through your Google ad to find a highly relevant landing page. They can get information in short bursts while leading them to convert. This not only results in converting leads but also justifies the users' reason for clicking on your ad. They get what they are looking for through your ad. 
For instance, you launched a Google ad that encouraged users about clicking the ad to find essential oils and night creams. Your landing page should have exactly that! A range of essential oils and night cream products rather than countless page scrolls of why essential oils and night creams are good for you.
Therefore, landing pages can help you achieve:
Lower cost-per-click and cost-per-acquisition

Higher conversion rate on offers

Improved AdWords Quality Score, resulting in your ad showing up more often
Essential elements to add to a landing page to convert leads
As a PPC Management Agency, we believe that every landing page must be customized in order to meet a client's business goals. We'll show you what it takes to optimize a landing page to convert leads into customers.
Create a headline that is driven by action-oriented vocabulary
Your landing page is unlike any web page. Therefore, you want to create headlines that directly tell the user what action to take. This can help the user click necessary CTAs and flow through the process till purchase, seamlessly.
Create a sub-header to describe the importance of the headline
Your sub-header is what appears under the headline and this section should communicate the significance of the headline. Make sure to add relevant keywords to the sub-header as it is likely to turn up in the user's search results.
Write the main content of the body in a relevant manner
Now, when you come down to the main body copy, you want to approach it from three angles. First, you want to make it scannable so that your users can quickly comprehend what they have to do. Second, the user should be inspired to scroll through the content, instead of getting stuck in a crowd of information. And finally, third, the content written should be compelling which means that the communication should have some relevant information.
Optimize your page title, meta description and URL
When we say optimize, we mean all the way! Add keywords wherever possible, without forcing them, in the URL, title, and meta description. This is to ensure that people will click on your listing as they relate to the search terms/keywords.
Add alt-text to your landing page images
Sometimes, Google may not know what you are trying to communicate through a certain image. So, make sure to add alt-text to it so Google can understand your intention. Also, your image should communicate directly what you are trying to sell. If you are selling essential oils, show an image of the selling product rather than the image of a person sleeping well at night.
Create an impactful lead-capture form
If you want to capture low-quality leads, make a brief form. However, if you want a smaller number of high-quality leads, customize your lead form more extensively. Create progressive profiling where new fields appear in the form systematically based on what the user clicks. For example, the form has a field that asks whether the user wants to browse through essential oil products either for good sleep or rejuvenated under-eyes. If the user clicks rejuvenated under-eyes, the next field to appear will ask for the skin type – dry/oily/semi-dry, etc.
Make your landing page compatible with all viewing devices
Your landing page has to be viewable easily on mobile devices, tablets, desktops, etc. This makes it easier for users to fill out the forms quickly and submit them or go through your landing page to take action.
Content should impact the user with smooth functionalities
Finally, write what entices the target audience to take action. And do not forget to double-check for any technical glitches. For instance, the call-to-action button is not working, leading to increased page bounces.
If you are looking for a web development company to create a landing page for you, feel free to connect with us today.
Related Articles: