WordPress v/s Wix – The Ultimate Comparison
bonoboz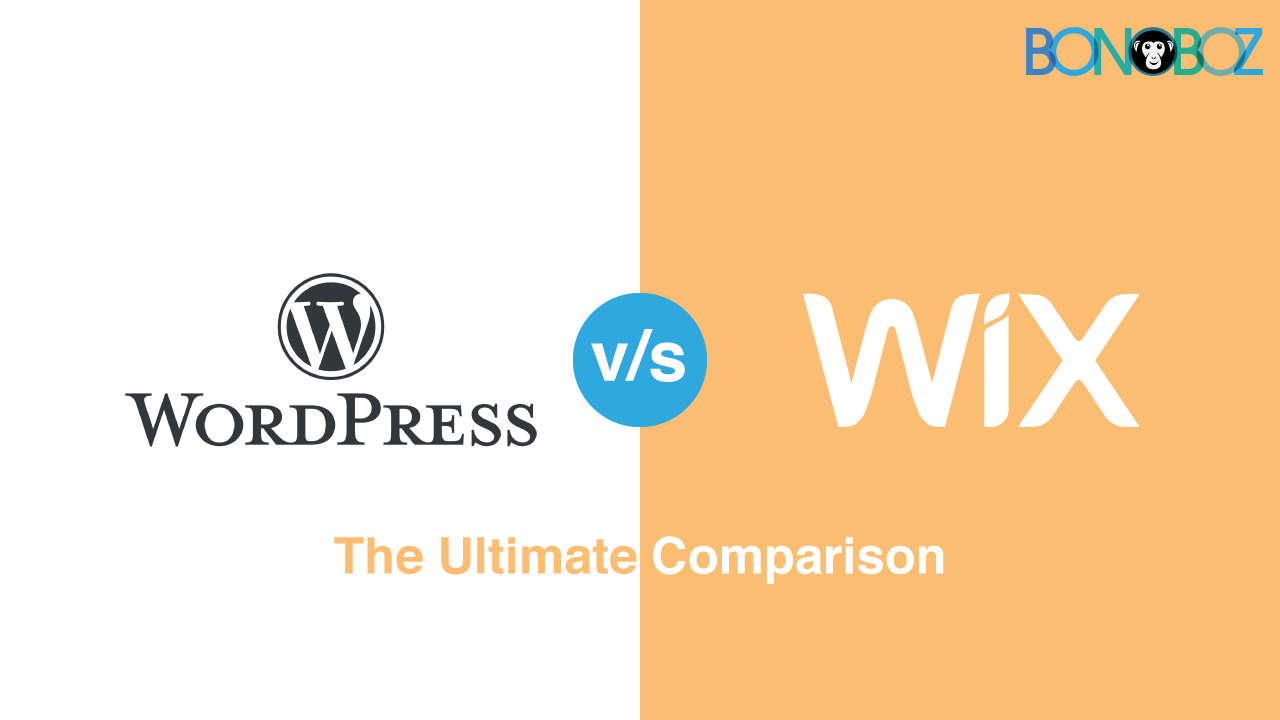 WordPress, one of the most popular content management systems out there powers more than 33% of all websites on the world wide web. That said, Wix has been rising in popularity in recent years.
While the number of websites powered by Wix remains debatable, Wix is still considered a popular alternative to WordPress.
If you are setting up your first-ever website and are deciding on what brief to give to your website designing company, here's a detailed comparison of WordPress and Wix, and where you should really put your money.

Ease of Use
Wix has a very simple drag and drop editor. If, for some reason, a good web design company is out of your budget, you can easily set up a website on Wix within hours.
All the elements of a page are visible in the editor and you can see changes as they happen.

WordPress, on the other hand, recently improved their block-based editor. Compared to Wix, though, it has limitations.
All the elements of a page aren't visible in the editor. For instance, forms need to be built separately and then inserted in the page via a shortcode.
Similarly, the editor does not show the header and the footer. You need to switch between the editor and the live website to see the changes.

Verdict: If you want a simple website and can't find a reliable web designing company, Wix is very easy to use for beginners.
Customisation and Flexibility
WordPress is an open-source platform, which means coders from around the world continuously contribute to the platform. There are thousands of WordPress themes out there, a lot of them free, and more than 50,000 plugins and apps to enhance the functionality of your website.
Want to add a discussion forum to your website? There is bbPress.
Don't have the budget to hire an SEO expert agency? Yoast SEO will take care of the essentials.
Want a horizontal photo slider on your homepage? There is more than one WordPress plugin out there to achieve that.
In short, WordPress is highly customisable.

Wix, on the other hand, is pretty limited in terms of options. It has about 300 or so plugins on the app store, and a little over 500 themes to choose from.
Wix is not an open-source platform, which means development of new themes and plugins happens at a much slower pace.

Verdict: If you are building a website for the long haul, you are much better off with WordPress, since you can continually add functionality to it as your business grows.
Ecommerce Functionality
WooCommerce, WordPress' ecommerce functionality, is the second most-popular ecommerce platform, after Shopify. Together with WordPress' flexibility in terms of plugins, WooCommerce can build incredibly detailed online stores.

Wix has limited ecommerce functionality. There are only a handful of payment gateways and it can only handle pretty basic online stores.
Unless you are only planning to run a simple T-shirt selling business online, Wix leaves a lot to be desired in this department.

Verdict: WordPress wins, hands down, in this department.
Pricing
Wix has a free website builder but it does not even allow a custom domain name. There is no point discussing the free option.
Premium options can cost you anywhere between $4.50 and $12.50 per month, depending on your bandwidth requirements. Wix sells its e-commerce plan for $16.50 per month.
The plans include everything, right from domain name to hosting and themes. You might have to spend a little extra on apps, though, to enhance the functionality of your website.

WordPress, given its open-source nature, is a lot more flexible in terms of pricing, too. For example, you could choose a completely free theme, and pay for hosting and domain names via any of the popular hosting providers.
A basic hosting plan, including domain name, by Bluehost, will cost you about $2.50 per month.

Verdict: WordPress wins the pricing battle, too. It is more prudent to choose WordPress and use the money you save to hire a good web design company in India.
Data and Portability
Consider a scenario where your business grows to a size where you outgrow a platform. Or, let's say you aren't happy with your hosting provider and want to move elsewhere.
You would then want to migrate your website elsewhere. Hence, the issue of portability is important when choosing a platform to build your website.

Wix hosts all your content on its own servers, which means you can't export it elsewhere. You will have to download all your content, including pictures, videos, and blogs manually.
Porting your website from Wix to somewhere else, thus, becomes a very tedious process.

In the case of WordPress, if you are not happy with your hosting provider, you can easily export your website with a single click. Most hosting providers also allow you to keep backups of your WordPress website, which make it very easy to move your website around on the world wide web.

Verdict: Portability is simple and easy with WordPress. With Wix, you are tied down to the platform, and will practically need to build a website from scratch, if you intend to move.

Conclusion:

Barring ease of use for beginners, WordPress trumps Wix on all the essential parameters of website building and hosting. While Wix can work for very basic websites, if you are looking for something more professional and cutting-edge, WordPress is the way to go.

We are a website design company in India, which specializes in WordPress web development. Talk to us about building a fast, affordable, and reliable website for your brand.
Related Articles:
Related Articles: