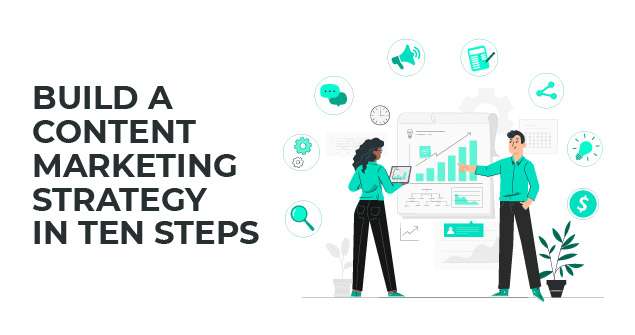 10 Ways To Build The Perfect Content Marketing Strategy Profitable For Business
bonoboz
Building a content marketing strategy helps to create a proper and structured manner of building a brand from group up. The direction to marketing the brand is developed and used to navigate through every phase of growing the brand's presence through various funnels. A sound content marketing strategy can help any brand forecast estimated resulting conversions and profitability. That said, content marketing through digital marketing services delivers three times as many leads as other marketing channels.
What do marketers mean when they talk about content marketing?
A content marketing service involves creating and distributing online content like social media posts, blogs, and videos, among other online content material. The objective is to promote a brand's products or services and stimulate interest in the target audience to make a purchase decision.
Therefore, the primary purpose here is to deliver a content marketing service in order to build brand awareness, providing various digital avenues for customers to reach consideration, and eventually help them make a purchase decision. However, these processes involve a great deal of strategizing and planning before executing any content material out into the digital world. If content marketing is executed without any proper thought and scientific research done to it, there's a high possibility that brand promotions will suffer wasted investments on content material endorsed. For instance, if you want to promote an ecommerce brand that sells almost every product that falls under the sun, how will you plan where to start? You cannot begin with random promotions and see which content marketing activity hits the target. There has to be a strategy or phase-wise approach before simply starting with any type of promotion. Therefore, as a content marketing service expert, we recommend you first learn the steps involved in making and executing a content marketing strategy.
Build a content marketing strategy in these ten steps
To bring profitability to your business, here are the ten steps you need to take into account.
Step 1) Create your mission and goals – A good way to start is to create a content marketing mission statement. Your statement should create the perfect go-to statement that defines, reminds and helps you focus on what's important and what's not. The statement should define the target audience, content to use to reach them, and how they will be benefitted.
Step 2) Establish your KPIs – Creating a set of key performance indicators can help keep you on track on whether you have achieved your goals. KPIs typically have measured metrics attached to them, like hitting targeted revenue, number of new email subscribers, specific social mentions, improving search rankings, and so on.
Step 3) Learn more about your audience – Use useful tools like web analytics, email subscriber analytics, and social media followers to gather data on your audience's age, gender, income, education, origin, and so on.
Step 4) Current brand stand analysis – If you already have existing content created for your brand, you can check whether or not it's working for your brand. 
Step 5) Pick the best content channels – If you are aware of your audience's demographics and understand where your content is working, you should be able to pick the right content channels. However, if it's your first trial, make sure to pick generic platforms first and some unique platforms. Text your content on these platforms in different forms and conclude the ones best suited for your brand.
Step 6) Decide on content types – Your brand may need blogs, social media posts, emailer promotions, newsletters, etc. The type of content you select depends on where you want to market your brand, who your audience is, and what online channels they access. 
Step 7) Identify and assign resources – Once you are aware of the above parameters, start identifying the roles and responsibilities required to best handle each marketing vertical. Assign specific marketing activities by deciding and selecting the person in charge for producing and maintaining content, using automated tools, and creating a publishing workflow.
Step 8) Create a content calendar – Create content after deciding when and where you want to promote it. Making a content calendar helps everyone stay on the same page and be aware of when the content has to be made.
Step 9) Create content, distribute and market – Now that you've made a content calendar, it's time to create content, and distribute it on your selected online channels. After this is done, start marketing that content by sharing or running ads, running email marketing campaigns, and so on.
Step 10) Measure results – After a certain period of marketing content, you need to check and measure where the content marketed has worked for your brand. For instance, you can use Google analytics to see how the content is performing, measure social sharing activities, and check the conversion analytics dashboard to determine the performance of your marketing campaigns.
We hope these ten steps involved in content marketing strategy help promote your brand effectively. If you need to hire a content marketing service expert, connect with us today.
Related Articles: