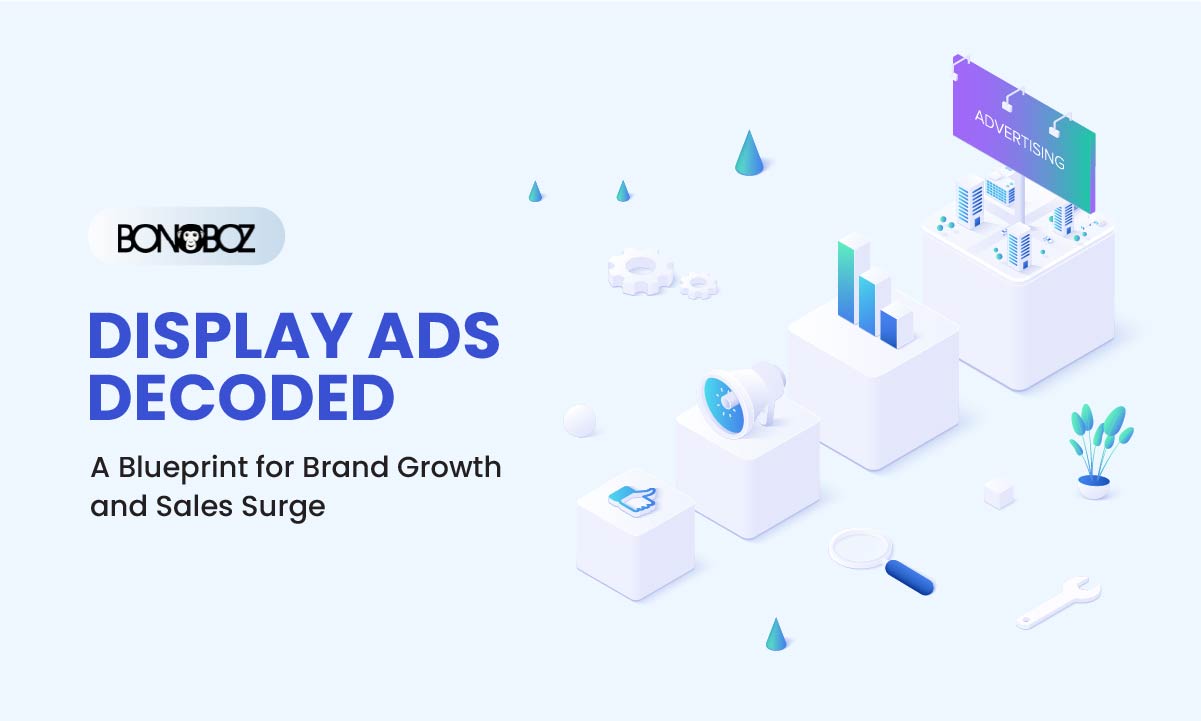 Best Way to Use Display Ads, Grow Your Brand, and Boost Sales
Bonoboz
Display ads offer an effective way of marketing businesses and boosting brands. Display ads make up 12% of a website's total traffic. The question is do all marketers want to use it to grow their brand? In this blog, we'll explore the best ways to use display ads that can help grow your business and increase sales.
What is a display ad?
A display ad is a visually based online form for paid advertising. You can see these ads on websites, social media platforms, and mobile applications. Display ads typically feature a designed graphic or photo with a caption. Users get an interactive display, encouraging them to engage with the ad.
Reaching customers through display ads entails working with a display ad network. It is important to note that these ads differ from paid search ad campaigns created through Google Ads due to their visuals and where they are shown.
You get to choose different types of display ads based on the impact you are looking for to target your audience.
360-degree video ads:

This form of a 360-degree video ad gives its users an immersive experience by responding to mobile phones' gyroscopes. The user can rotate the phone to view the display ad completely.

Banner ads:

Banner ads appear in an animated, interactive, video format, or static. As the name suggests, these ads appear on the website's top section, in a mobile app, or on a social media platform.

Interstitial ads:

An interstitial ad is a pop-up ad that is designed to cover the entire page or app screen. In this process, users need to interact with the ad. This means they either need to proceed by closing the ad or clicking the CTA if they are interested in what the ad has to offer. Interstitial ads include images, text, videos, and rich media. You should know that Google restricts certain interstitial ads on mobile pages. This is to ensure that user experience is not interfered with through excess of these ads.

Lightbox ads:

Lightbox ads are created to improve the user's experience. Initially, this ad appears small, less interfering, silently at the side of a webpage. When the user hovers their cursor over it, the ad expands so the user can view it entirely and engage with it. Once the user removes their cursor from the ad, the ad goes back to a smaller size again without appearing to be over-invasive in its approach.

Remarketing ads:

Remarketing ads that appear on apps, websites, and social media pages. Interested visitors may usually click on these ads after leaving your mobile app or website.

Responsive display ads:

RSA or Responsive Display Ads are dynamic text ads. They give a different variation of headlines and descriptions based on a Google search inquiry.
Only by understanding the type of audience for your brand can you use the right display ad to encourage engagement.
Once you've selected the type of display ad suitable to your audience, it's time to understand the best way to execute them.
Best practices to leverage display ads and boost sales
The idea is created, the audience is present, and the marketing strategy is in place. It's time to execute the best display ad you can to target your audience. Let's explore the steps in the order that ensures you get high click-through rates.
Confirm your target audience
You may already have an idea of your brand's audience. However, it is important in this case when choosing the right display ad to work wonders for your business. So, knowing your specific buyer person will help decide the kind of communication you want to create. In this process, you can also use keyword targeting that will enable your ad to show up on websites where their content matches the selected keywords.
While setting up your display ads, you can use placement targeting to choose specific websites where you want your ad to appear. You can also select the demographics suitable to your target audience. That said, display targeting entails showing ads based on what users enter in search engines. On the other hand, using a specific, that is, topic targeting will involve selecting websites that fit within a particular topic.
Create a display ad that encourages action
A display that can attract attention and also encourage the user to take action like clicking on the ad is an ad well done. Use a high-quality image to convey a targeted and strong message to the audience. Many successful display ads have elicited a strong emotional response from the target audience. These display ads typically become clickable and generate more business for the brand.
For example, the popular brand Nintendo wanted to make an offer to buy their products. So, they used bold visuals and displayed an emotional message that read, "Play Together – Anytime, Anywhere".
Yet another one of their ads aimed to talk about their console product which had three modes in one. The product is a tablet that can transform from a TV mode to a Tabletop mode, and then to a Handheld mode. The ad had to display convenience for the user, so the tagline simply read "Make the Switch" with a strong high-resolution static image of the product.
Another piece of great advice that our expert online advertising team gives is to use programmatic advertising and serve various iterations of the same content. This process enables your brand to target differently segmented audiences. Keep your display ad copies short, enough to interest users to become curious and click your ad.
Use rich media like videos, Flash, and more
Conventional display ads are static. However, rich media offers the chance for users to interact with your ad. So, this includes videos, Flash, audio, or interstitial ads. Rich media ads entail investing more than what you would invest for your traditional static display ad. However, the ROI is worthwhile if the ad is leveraged well.
So, when creating video ads, make sure that the sound quality is high and that it's not too annoyingly loud. You could use Outstream Video Campaigns that are gaining more popularity. These types of videos will play on mute, giving the user an option to unmute if they are interested in watching. Also, since the ad is muted, it is important to provide sufficient information in the captions and the copy on the visual. This is so that the user gets an idea of the ad's offer.
Beyond the display ad – Landing Pages
Here's our tip of the day when it comes to converting your leads. We're talking about what comes after the user clicks on your display ads. The landing page you create and design should be specific to your display ad. It should be equally well executed and optimized.
So, place at strategic points enticing CTAs or Call-To-Actions on a mobile-friendly landing page. Its design should match the design on the display ad, and put an easy-to-complete online form.
Explore your Display Ad chances with Gaming Ads
There are over 3 billion online gamers worldwide. You can explore your chances with mobile gaming display ads as active gamers fall under all genders, ages, and occupations. So, reach a wider audience through ad formats like in-game ads that entail audio, static, video, or image ads.
We hope these practices in leveraging display ads can help grow your business and boost sales. Trying a combination of Google ads and Display ads may prove to increase your ROI based on your team's execution. Furthermore, you may contact us to professionally run display ads for your brand to generate leads from the right target audience.
FAQs
How do I know which display ad is best for my brand?
You can perform A/B testing for the different display ads you use. This can help you identify the best-performing ads for your brand. Set up a proper tracking approach with established KPIs like CTR, impressions, reach, and conversion rates.
Why should I use display ads?
Display ads are more visually appealing compared to other ad formats. They help your audience get to know your brand more closely. You get to track and monitor ad performance; it is a less expensive option and also allows you to remarketing opportunities.
Are there any important executing tips I know of while making a display ad?
Make sure to know about the display ad sizing based on the format you choose, from a banner to a static image ad. The images may appear just as you show them. This means you must modify the image or video before uploading it into the ad slot. Also, make sure that your display ad is mobile-friendly as most active users will view your ads through their mobile phones.
Related Articles: