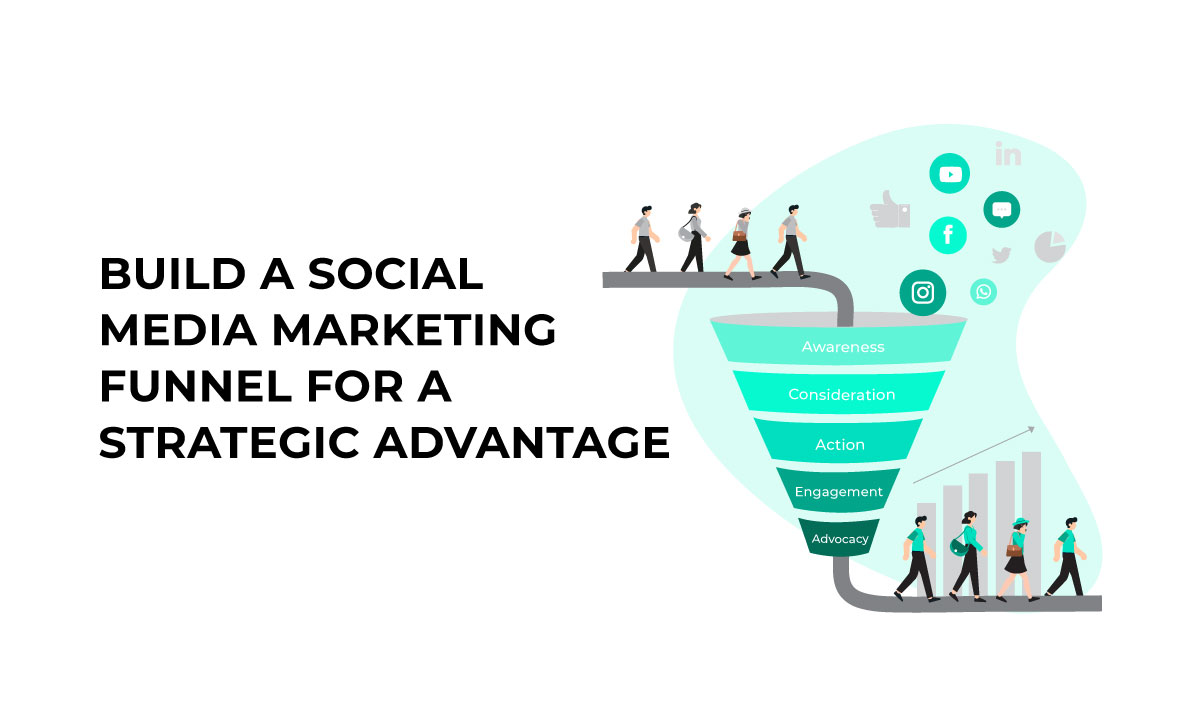 Create a social media marketing funnel to gain strategic advantage in the market
Bonoboz
Of all the digital marketing strategies, social media marketing is one of the proven, cost-effective ways for business promotion. Social media marketing requires consistent content creation and engagement to reach many audiences. Apart from a small investment in paid advertisements, social media marketing requires hardly any monetary expense. Effective social media marketing management makes it possible to promote your brand effectively amongst a larger audience. Here we will discuss social media marketing that can be used effectively for your business growth and the steps to create a great funnel of social media marketing. 
Why is social media beneficial for your business?
Social media is a host to the majority of your target audience. There are over 3.5 billion social media users currently, and this number is only predicted to rise. And these users consume regular content from social media. So not targeting social media in your marketing strategy would be missing out on these leads. 
Another advantage of using social media for your business promotion is that it is free of cost to a great extent. So it is a great cost-effective way to promote your product or service. To take the promotion to a new level, you can also collaborate with social media influencers with a small investment.
Social media can help your business to:
Building a great identity for your brand
You can create a brand identity the way you wish your brand needs to be perceived through social media. The posts and other content can be curated in such a way that there is a unique identity for your brand.
Increase the brand's visibility
Constant content creation and engagement can reach a larger audience. Hashtags make your content visible to a more targeted audience. Thus social media is a great tool to increase brand visibility amongst target audiences.
Increase the traffic to your website
The ultimate aim of social media content creation is to increase leads and conversions. You can attach the link to the website from which the purchase can be made after each product or service description post. This will increase the website traffic and also the probability of conversions. 
Interact with customers and potential clients 
Social media is the best platform to interact and engage with the target audience and customers. Reposting the target audience's posts or stories, replying to comments, and attending to queries through messages are some common means of interaction. You can also conduct small surveys among the audience by posting questions or requesting suggestions for improvement in stories.
All you need to know about the social media marketing funnel
The marketing funnel refers to the path through which leads are converted to sales. It is the linking dots between leads and conversion. Every step in a funnel is a building block filled with tactics to mould the user into the purchase. 
Social media marketing funnel steps differ from brand to brand, but the ultimate goal remains the same. The goal is to convert the leads into satisfied customers. 
An ideal social media marketing funnel starts with converting leads into a customer. Then ensuring this customer is satisfied and happy with the purchase and ultimately recommends or influences other potential customers to make the purchase. A satisfied customer through word-of-mouth advocacy can bring in another five customers, and the link can grow and so on. 
Steps in the social media marketing funnel:
Now that we have understood the importance of the social media marketing funnel let's find out how to execute it. The steps in this funnel are interconnected, which means each step has to be performed with the same efficiency. Every stage from the start of the funnel to its end should be performed smoothly for the funnel to bring results. Here are the steps in the social media marketing funnel. 
This is the first step in the social media marketing funnel. In this step, you make the target audience aware of your brand. The most effective way to create awareness in social media is by constant post creation. With constant activity, the social media's algorithm promotes the reach, increasing your brand's awareness. 
Now that your brand has a greater reach, it's your job to ensure that you at least make sure these audiences become your followers. This can be done by providing solutions to the audience's problems through posts. Problem resolver posts resonate the best with the audience, and they tend to stick around more. 
It is necessary to research well and understand the common problems or questions your audience is facing to create an effective problem resolver post. 
Social media provides a great platform for businesses to connect with the audience through these posts. Once the audience finds your solutions legitimate, they will visit your website for more details. Thus awareness takes the marketing funnel to the next level, closer to conversion. Since social media marketing involves continuous content creation and posting, you can use automation tools to help schedule. 
The other means by which you can increase brand awareness is through paid advertisements. Social media allows you to promote your brand through targeted advertisements making it super effective.
Social media influences are the lead characters when it comes to social media. They have a high chunk of followers, and if their ideology or content trends match with your brand niche, then the influencer's followers can also be your target audience. The best way to reach out to this audience is by collaborating with the influencer.
The consideration phase is the next after awareness. Once the audience becomes aware of your brand, its services or products, they analyse it further before making a purchase. This analysing phase involves visiting your website to understand it better. It is followed by searching and comparing it with other brands of the same niche. 
The best way to stand out in this phase and take them along to the next step is by giving them exactly what they are searching for. The audience at the consideration stage requires specific details. So, in this stage, you will technically share everything about your product with examples from reviews, testimonials or case studies. 
The other way to win the audiences' trust is to let them be their judge. Enable a free trial of your product or service if feasible and make the conversion after the trial period using that experience. These generally work better than other means. 
This is one of the most important phases in the marketing funnel. You have nurtured the relationship with your potential client so far, and now the next step is for them to make the purchase. In this step, you need to give them a strong reason to purchase as they have already been educated with comparisons.
The market trends and your performance may heavily influence the reasons. But the most common influencing factor is monetary investment. The cost of the product or service can twerk the purchasing decision. At this point, you can win the customer by providing a certain percentage of discount on the product price. 
The other way to win the client is by providing free trials or additional goodies along with the purchase. You can also encourage the purchase by providing free delivery, assuring guaranteed customer support for a certain term after the purchase and COD options. 
Now that the target audience has become your customer, it is also important to retain them for future purchases. Many businesses miss this step and end up losing existing customers and have to start from point A all over again. This will not only cost more money but also affect the flow of business. 
It is equally important to focus on retaining the existing clients as us to find new ones. Both of them require equal effort to thrive well in the competition. It is rare that a customer makes a purchase and is satisfied and becomes a lifelong customer of your brand without any effort on your part.
So how do you keep connected with the customers after they make the purchase? Social media engagement is the key to it. Interact with the customers through social media posts and stories. Ask them questions relevant to your brand. Conduct polls on reviews, new ideas or suggestions. Develop a hashtag and ask the customers to use it in every post they make related to your brand. Hashtags easily develop into trends, and people tend to make purchases for the same. 
Finding new clients for your business can be made easier if you work on the existing ones better. The existing clients can be satisfied customers and also be great ambassadors for your brand. 
People generally find word of mouth or testimonials more relevant than the brand's promotions. But for these customers to promote the brand, you need to constantly engage with them. Do not hesitate to give away incentives for the customers who brought in new ones who made purchases. These incentives will act as good encouragement for the customers and are a win-win for all. 
How can Bonoboz effectively plan your social media funnel?
Bonoboz being a social media marketing services expert can curate a solid strategy that will take your business to new heights. From the awareness stage to the advocacy ones, we understand that every business requires a unique approach. This is why we believe in in-depth market research to find out what to focus on and when. The focus of the stages also varies based on your business type, the duration since the incipient stage, the goals, etc. 
Social media marketing is an inevitable part of the marketing journey in today's digital world. Bonoboz can help you with this social media marketing management effectively while you concentrate on other aspects of your business. 
Related Articles: