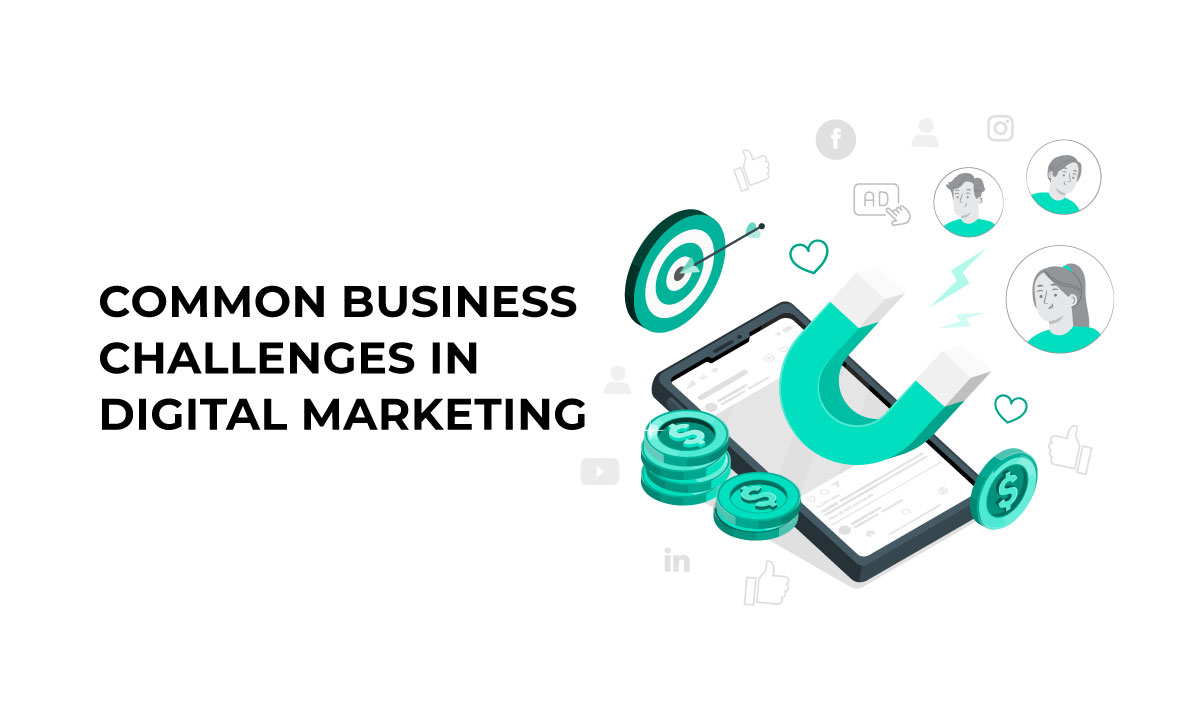 Tricky Digital Marketing Challenges that can can halt your business
Abhik Basu
Digital marketing is an integral part of business growth. Though several businesses have started focusing on their brand's online presence, they lack proper strategy. Creating an appropriate strategy would require good digital marketing management. 
Here is a list of common digital marketing challenges faced by businesses.
Lead generation is a common and one of the huge problems faced by new businesses. Every business is constantly hunting for new leads. Lead generation increases the conversion rates and thus helps in business growth. But do all leads progress to conversions? No right! So it's not just any leads you need for business growth but quality leads. Quality leads are those leads that make a conversion and retain for further purchases throughout. 
Aiming for quality leads is easy but obtaining them is a constant work of art. Firstly to find the quality lead, you need to picturise your ideal client avatar. Inculcate all the qualities you wish your client to possess while creating this avatar. Now that you know how your ideal client looks, it becomes easy to target for lead generation. An excellent digital marketing strategy will involve focusing on lead generation similar to the ideal client avatar and constantly engaging with them to transform them into quality leads.
Understanding and recognising the target audience
Now that you are all prepared to create an ideal client avatar to generate leads, you must understand it is not all required for lead generation. Along with recognising the target audience for your business, you should also understand them well.
The target audience might sound like a single group, but the group doesn't necessarily always behave the same. The target audience might have a few common characteristics but differ in many others too. So your role is to identify what content most of your target audience likes and understand their content interaction patterns. Content is the king when it comes to social media marketing. Constant content creation that creates the most engagement would be an ideal marketing strategy. To identify this most engagement-worthy content, you should take feedback and opinions from the audience and constantly work on it. Also, do not forget to analyse the data after posting content. Analytics gives you a better sense of direction regarding content creation and focus. 
Preparing a definite content marketing strategy
The next step after identifying your target audience and their needs is to create effective content. In the beginning, you need to analyse the content you already have that is worth posting, considering your target audience. 
The posts must also resonate with the audience's age group, interests and ideologies in your chosen media. It is also important to keep up with the latest trends in social media and yet not deviate from the niche or focus. This is to enable the algorithm to promote your content and, at the same time, satisfy your target audience. 
While categorising content for each social media, an ideal content marketing strategy would involve matching the best forms with the relevant medium. For example, long-form written texts can work well with media like LinkedIn or website blogs and video content can work well for Instagram and Facebook. 
Creating new content every time can be highly taxing. Content repurposing can be a great solution to this problem. Repurposing your content is not a flawed option instead, it gives a new life to your already existing content. 
Examples of content repurposing are-
Using a blog post to create several social media posts.

Making reels or video content out of your social media posts.

Utilising your long-form video content for email marketing.
Another important aspect of content marketing strategy is scheduling this content to be posted at high engagement periods. Automating these social media posts takes away the hassle of posting.
Deciding about advertisements
Paid advertisements can be a bit tricky when it comes to making budget allocation decisions. The pay-per-click type, which is most commonly used, requires prior budgeting. Allocating a blind number for the budget, which can work out, is not possible. You must first analyse the advertisement's goal to find the ideal budget range. The goal should be measurable rather than a vague expectation, like an increase in website traffic.
The goal you create should be based on three important components: the target growth, the current position you are in and the time in which you wish to achieve it. For example, if you want a 30% increase in lead generation through email marketing, you must know the target time and current email marketing lead count to set a definite goal.
Another confusion related to paid advertisements is in deciding the duration to run the ad. Ideally, statistics show that the ad should be run for a minimum period of a month for it to produce any result at all. Three to six months of ad run can produce good results if planned correctly.
Now that you have decided on the duration and budget for the advertisement, you need to plan for the right medium to promote. This, again, will depend on the goal you wish to achieve. If you want to bring in a new set of audience to your website, social media apps like Instagram will work best. But if you are looking to retarget website visitors who have not made conversions yet, Google Display Network can be a great investment.
Apt content creation would mean creating the content people wish to see from the source they are constantly present. So how would you determine what your customers or potential customers like and their most available source? The answer to this question is analysis.
Constantly analysing your posts and ads can help you find the answer to these "how". The other simple technique to find out the source of these customers is by incorporating a small feedback section on the purchase processing page. Include questions like where did you get to know about your business, what form of content you prefer to consume, etc. The answers to these questions will also provide solutions to the most reachable content type and media. Tools like Google analytics will also provide a detailed analysis of every content's performance. Constantly analysing and working on these results can help you create ideal content. 
Expanding reach by diversifying channels
When content marketing is concerned, your content must reach most of our target audience in the perfect form for effective conversions. The two main forms of marketing include multichannel marketing and omnichannel marketing. Multichannel marketing involves sharing different content in every medium with the same goal. In comparison, omnichannel marketing involves sharing the same content in every medium.
Choosing between omnichannel and multichannel marketing depends on the goal of the marketing. Omnichannel marketing will work great if your goal is to just share the new product launch or offer. But if you wish the audience to make the purchase, then you need to curate specific reasons for each type of audience. The latter requires multichannel marketing through which each section can be lured towards the end goal of purchase. Deciding prior on the kind of marketing you wish to make is extremely important. The type of campaign chosen can affect the results. Carefully determining the goal and then deciding the marketing type is a great strategy. 
Creating mobile-friendly content that is responsive
While creating content, especially social media content, it is ideal for focusing on its responsiveness to mobile devices. A large chunk of social media consumers are mobile users. This makes it important for your content to be mobile-friendly. 
The other important aspect to focus on is how well your post can receive responses through mobile. For example, after posting an Instagram story, ensure that the reply section is accessible through mobile. 
Apart from the challenges mentioned above, the other commonly faced problems involve-
Working on brand awareness

Data Analytics

Updating trends in digital marketing

Updating on privacy and other rules
Bonoboz is the best digital marketing agency that can provide solutions to all these problems. Our team can work on the analysis report and create a foolproof digital marketing strategy for your business.
Related Articles: