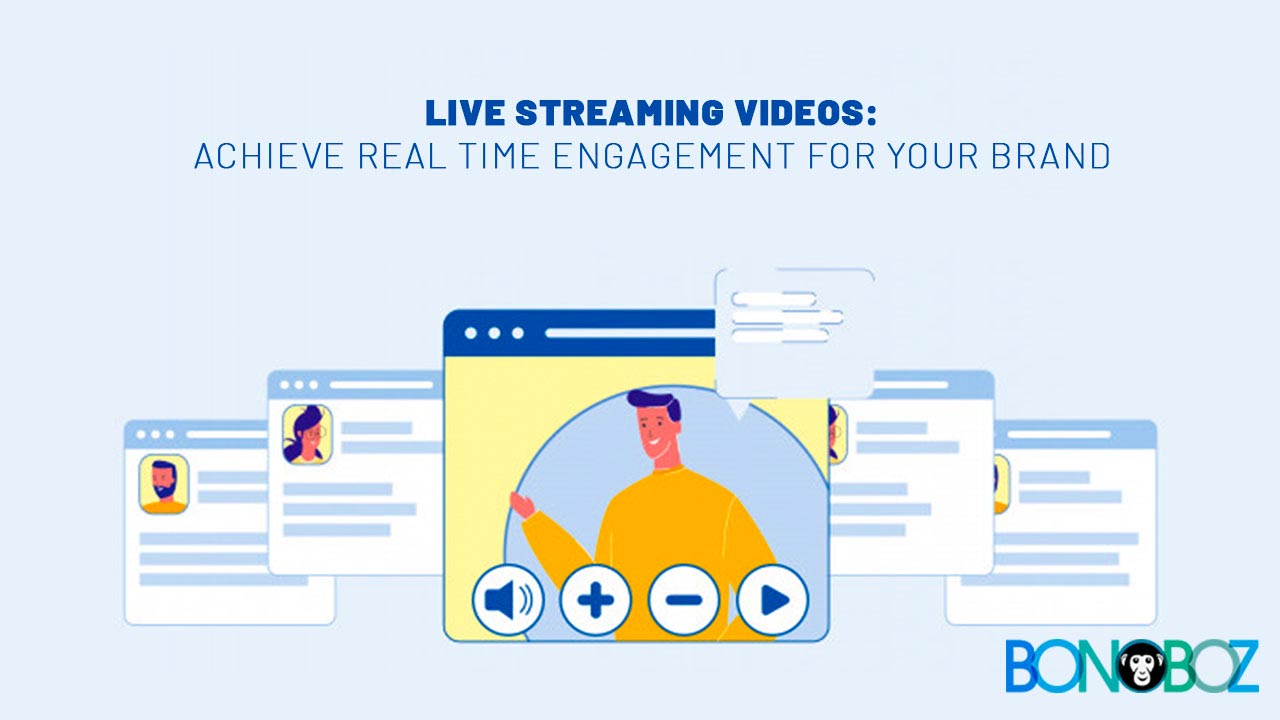 Live Streaming Videos: Achieve Real-Time Engagement For Your Brand
bonoboz
Ever since live video streaming arrived on Facebook in 2015, it has been all the rage among social media marketers, and rightly so. No other form of social media outreach enjoys the kind of popularity that live streams do.
Sample this: almost 80% users on Facebook prefer watching a brand's livestream than reading a blog post. Furthermore, the average user watches a live stream for three-times longer than a recorded video.
Why do live streams have such a fan-following, though?
Why Use Live Streaming in Your Social Media Strategy
It Builds Trust
Modern consumers find it hard to trust brands. Unfortunately, people tend to buy from companies that they trust.
And therein lies the efficacy of live streaming. It allows you to connect with your audience and build trust through transparency.
You can reach out to people during various stages of the buying cycle to reassure them that you are a brand that cares about them. Take a leaf out of Southwest Airlines, for instance. 
The airline live streamed from its operation control centre when flights were getting delayed due to bad weather. The live stream brought transparency to decision-making, which helped instil a sense of confidence among people for the airline. 
It Builds Engagement
Facebook live videos fetch six-times more engagement than on-demand videos. This engagement can be in the form of social shares, comments, and likes.
Furthermore, Facebook's algorithm also ranks live video content higher than other kinds of posts. Thus, if you are streaming a live video on your Facebook page, you have a better chance of reaching a wider audience. 
Major music festivals, such as Sunburn, employ Facebook live to increase their reach, and eventually, their ticket sales. The key is to keep your live content exciting. 
It is Pocket-Friendly
Compared to producing scripted video content, live videos are a lot more budget-friendly. All you need is a good camera, a quiet room, and a strong internet connection.
Facebook allows you to stream live videos for free. Other platforms, such as Perciscope, have a free as well as a paid tier.
The latter, too, is pretty inexpensive, when compared to the cost of producing on-demand video. 
How to Use Live Streaming For Your Brand
Brands around the world incorporate live video in their social media strategy.
Buzzfeed, for instance, uses live streaming on Facebook to promote its content.
Dunkin Donuts ran a Valentine's Day campaign where they live streamed behind-the-scenes action, making a wedding cake out of donuts. 
Here are a few situations where live streams can help you engage with your audience, directly. 
Live Events
Global music festivals do it every year. Streaming a live event can make your audience feel a part of your brand, which helps build loyalty.
Make sure the live event is exciting and engaging enough, though. Walk around the venue and show people different moments and areas from the event.
Even if it is a sales conference you are live streaming for your remote workers, do not leave the camera in one spot. Every now and then, move the camera around the room to keep your audience engaged. 
Q and A Sessions
Host Q and A sessions with eminent personalities from the industry. These could be to engage employees, your customers, or both.
For example, if you are a travel agency, you could host an interview with an eminent local of a popular tourist destination. Similarly, if you are in the B2B space, invite industry leaders for a Facebook Q and A that is live streamed. 
Behind-The-Scenes
Give your fans access to behind-the-scenes footage. It could be a glimpse into how a certain product is made, or even how your employees celebrate sports victories of their favorite team.
The latter can be an engaging way to showcase your company culture and attract talent. If you are a small e-commerce company, you could even show them behind-the-scenes action of product photo shoots to build trust.
A radical idea in live streaming is to use it for customer service, especially if you are a tech company. You could assign slots to consumers and address their complaints on camera.
It can be handy, in particular, for an older demographic that is not very tech-savvy. 
Social Media Optimization is about creating brand ambassadors. We, at Bonoboz strive to do this with a carefully thought out Social Media Marketing Strategy.
Contact us now to know how Social Media Marketing can help your Business get more Leads. Let us help you drive sales!
Read More:
Related Articles: