5 Types of Social Media Content That Fetch Engagement
bonoboz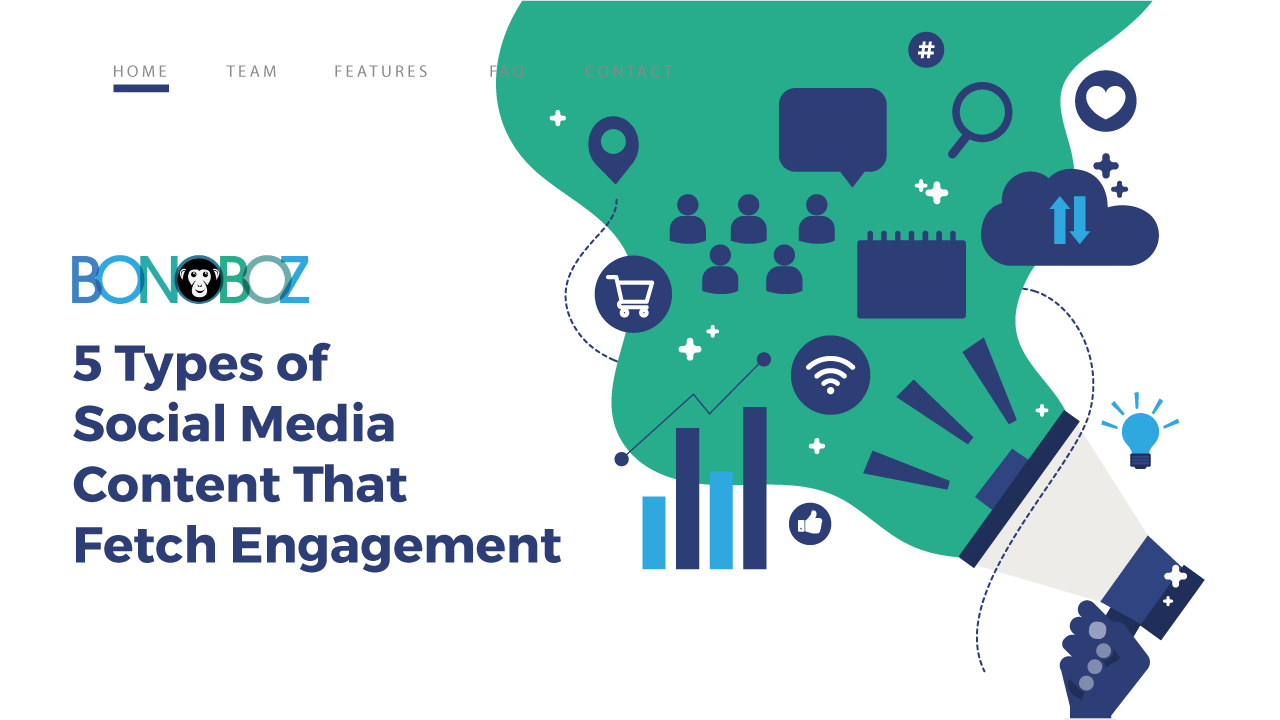 The potential reach of social media is massive. At 3 billion+ active users worldwide, it is unparalleled by any other medium out there.
Add to it the advantage of analysing results and data-backed A/B testing, and social media becomes one of the most powerful marketing mediums out there.
Its potential and popularity also means that social media can be a crowded place.Every minute, almost 50,000 photos are uploaded on Instagram.
Given the din, as a brand, it is crucial to understand what kind of content resonates most with netizens.
In no particular order, here are 5 types of social media content that fetch sizeable engagement and can help you with social media optimisation.
Focus on Creating These Content Types for your Social Media page
Memes
Memes offer comedic relief from the everyday mundane. According to Google, "Memes" are giving "Jesus" a run for its money when it comes to popularity.
A quick look at the Instagram feed of several popular brands shows that memes fetch better engagement rates than other kinds of photos.
If you are struggling for inspiration, consider these examples of brands on Instagram that integrate memes into their content mix effortlessly.
Gifs
According to a 2016 finding, tweets with GIFs fetched upto 5 times more retweets and likes than other kinds of tweets. GIFs can also help with brand recall value, since they are popular with millennials in mobile messaging.
A GIF can be used for comic relief, just like a meme. However, it can go beyond that. Consider InVision's Instagram strategy, for instance.
The prototyping company uses GIFs to explain difficult concepts to its followers, thereby establishing itself as an authority in the field. There is also Trello, which uses humor as well as educational GIFs on Twitter.
All you need for creating GIFs is some visual content and any of these 6 GIF-making apps.  
User Generated Content
The engagement rate of user-generated content is almost 30% higher than content pushed by brands. In fact, more than 80% buyers trust their peers when it comes to recommendations than other forms of advertising.
The rise of influencer marketing over the last couple of years is a natural extension of user-generated content.
Starbucks, perhaps, is the best source of inspiration when it comes to user-generated content (UGC). UGC can particularly work well for lifestyle brands.
For instance, if you run a boutique hotel, you could reach out to guests, share pictures of your property they might have uploaded on their social media handles, and tag them.
UGC can also be used to attract better talent and increase brand loyalty. Instead of posting behind-the-scenes footage on your company's page, ask your employees to do so.
It will increase your chances of getting more likes and shares.  
Live videos
Internet users spend 33% of their time online watching videos. That's a substantial chunk of their time on the internet.
But what is even better than including video in your social media marketing strategy? Live videos. Ever since the advent of Facebook Live in 2015, the format has been popular among marketers.
If you are keen on Facebook marketing, live videos have to be an essential part of your mix. It has been seen that live videos on Facebook fetch 6 times more engagement than other kinds of videos on the social media platform.
The biggest advantage of live videos is that they can be relatively easy to produce than branded video content. All you need is a decent camera and a quiet room.
Don't just stick to Facebook Live, though, when trying to leverage the power of live videos. Apps such as Periscope, allow you to stream your live videos to multiple platforms, simultaneously.
Thus, you can reach a more varied demographic at the same time.
Social Cause Posts
Millennials seem to care much more about the world than their predecessors. They want to be involved and they want to be an active part of change.
A quick look on your Facebook News Feed will tell you just as much. Brand can leverage the hyper-aware millennials to fetch more engagement and build more brand awareness.
However, it is very important that brands come across as genuine in their endeavour for social good. Otherwise, it can very easily backfire.
Getting together social cause and social media contests can be a good strategy. Consider Reliant's Twitter page, for instance.
The company regularly runs crowdfunding campaigns for various social causes and even recognises volunteers who stand out.  
As a social media company, we always advise clients to be relatable with their content, whether it is in the form of memes, Gifs, or social campaigns. The young generation does not want promoted content shoved down their throats.
Instead, they want to be a part of a brand's story, and you can make them a part of it by creating content that resonates with them.
Social Media Optimization is about creating brand ambassadors. We, at Bonoboz strive to do this with a carefully thought out Social Media Marketing Strategy.
Contact us now to know how Social Media Marketing can help your Business get more Leads. Let us help you drive sales!
Related Articles
Related Articles: