10 Tips for Optimizing Google Local Business Listing to Get Local Clients
Bonoboz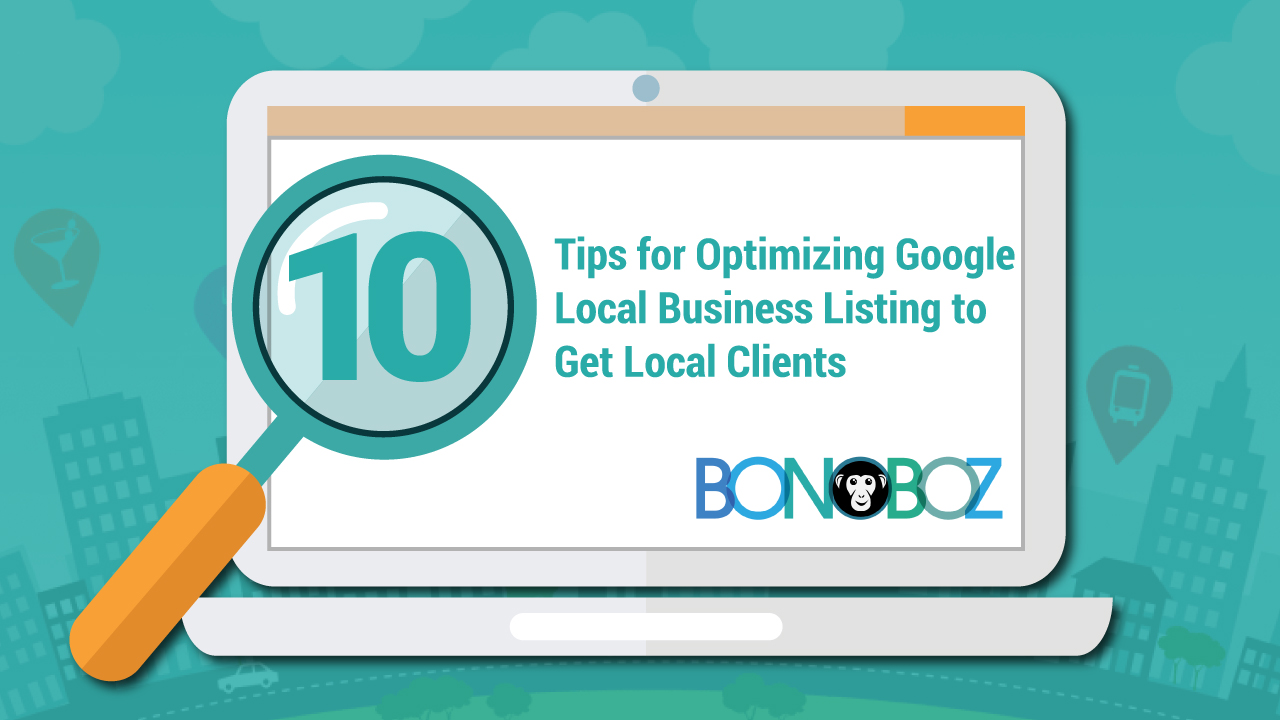 You are a local business owner and you know your potential customers are searching for you online. But you also know that your target audience is the local community, the people nearby. So, you want to make sure they get the information they are looking for like your contact number, address, reviews, etc. right on the SERP (Search Engine Result Page). According to Google, Local Searches lead 50% of the mobile visitors to visit stores within a day. So, how can you get found by the people nearby and get more local clients? The answer is Google My Business which is a Google Local business listing.
Google My Business lets you list your business information like contact number, address, reviews, business hours, etc. online for free, in just a few steps. This information can then appear in Google Search, Google Maps, and on Google+. This means optimizing your GMB listing is as important as enhancing your website. But how do you do that?
Here are the 10 tips for optimizing Google local business listing to get local clients:
Enter Complete and Consistent Data
Make sure your listing has all the details required to communicate with your potential customers. Local search results favor the listing that has complete and accurate information like what your business does, where it is, how to reach you, etc. It is also important that the data is consistent across all your listings and your website.
Verify the listing
Unverified listing means Google and the people searching for you don't know if the information about your business is reliable or not. Plus, if you don't claim and verify your GMB listing, someone else will. Shocking, right? Yes, unverified listings are vulnerable to malicious interference and almost anyone can claim your listing. So, don't delay and make sure your GMB listing is verified.
Include keywords
Google My Business is a part of local SEO which works on the fundamentals of traditional website SEO. So, including main keywords and search phrases to your business listing will be very helpful. Whenever someone will input that keyword, your business will show up in the search results as your business is listed on Google My Business.
Read More: Step-By-Step Guide to SEO Keyword Research
Update the Operating hours
Make sure your business operating hours are accurate. You can set the hours for each day of the week. Additionally, Google also allows you to set special hours for special events or holidays. Time and again, check that the operating hours are updated.
Add your own Photos and videos
Adding pictures to anything will instantly grab a person's attention. The same goes for Google My Business listing. Photos and videos of your business help your listing to stand out. People don't want to see stock images but the real face of your business – who you are, what you do and where you're located. And photos and videos of your business help you do just that.
Reply to Reviews
Reviews help your searchers to know you and your services better. As per a study, 85% of people trust online reviews as much as personal references. So, encourage your customers to leave a review for your business and interact with them by replying, especially to the negative ones. Nothing is worse than not replying to a negative review because, if handled well, they can improve your business repute too. Incidentally, Google doesn't allow your employees or ex-employees to leave a review, thus saving you from resentful comments.
Update Google's New Posts Feature
With this cool feature, you can post updates and offers directly to your local listing on Google. This feature allows you to advertise the latest offers, share updates about new offerings or special events to your potential customers for free. This is a clever way of regularly updating your business listing for both – Google and your potential clients.
Choose Relevant category
It is important to list your business under the right category. This will give the idea to the potential customer about your products/services and to Google about which listing your business should rank under. Select the most relevant category that describes your business from the list of categories provided by GMB.
Add Contact details
Keep your contact details consistent between your different listings. Make sure that you are using a phone number with a local area code. This shows Google and the people searching for you that you are a local business. According to Google, the searches for "near me" doubled in 2016 on mobile phones. So, verify that your business address is correct and can be located by Google.
Avoid offenses
Google tends to suspend the business listings for a number of offenses. No matter how good your business listing looks to you but if it doesn't meet Google's GMB guidelines, you'll suffer a penalty. Getting suspended is obviously not something that you'd like. So, read through the guidelines of what not to do.
Apart from these tips, you can also encourage social check-ins, employ Google certified photographer, drive paid campaigns during the popular times of the day, etc. And by the way, don't forget to analyze!
Are you still struggling to rank locally? We can help!
Related Articles: