How to Choose the Right Social Media Platform for Your Business
bonoboz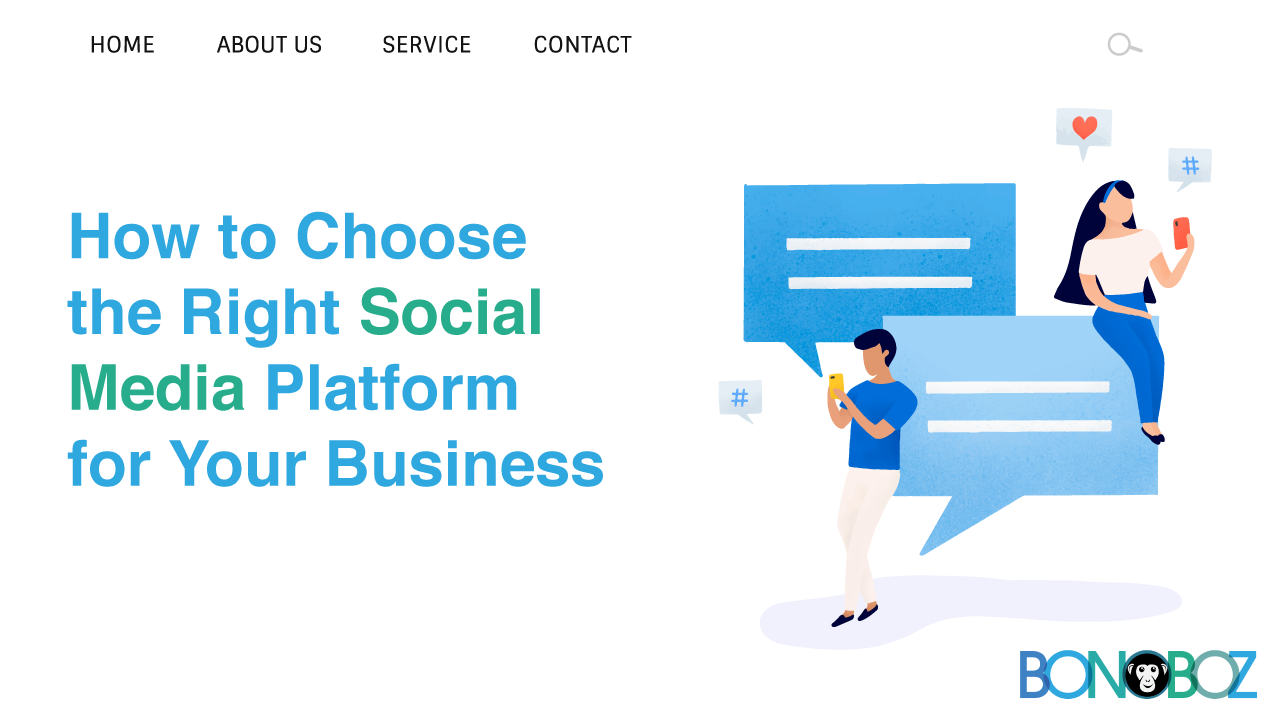 When done right, social media marketing can offer any business a host of benefits, including increased brand loyalty, heightened brand awareness, and better conversion rate compared to outbound methods.
In fact, more than 60% people expect brands to engage with them on social media.
With so much at stake, it helps to choose the most appropriate social media platform to reach out to your target audience.
For instance, if your target audience is largely female from upper middle-class section of the society, it might be a good idea to explore the potential of Pinterest.

Factors That Go Into Choosing a Social Media Platform

While it can be tempting to be present on all social media platforms out there, it can put your content team under a lot of pressure; not to mention that it is usually ineffective, since consistency is the key for successful social media marketing.

Understand Your Audience
Make user personas of your most likely target audience. Analyse your web traffic and tweak those personas, until you get a clearer picture of who your potential audience is.
Largely, you should have an answer to the following:

Demographics of your target audience, including age group, gender, and location
Content consumption patterns and preferences: content formats that are most popular with your demographic, how the content is consumed, and where
Interests outside of your product or service
The more detailed buyer personas are, the better your chances of honing in on the right social media platforms. For instance, if your ideal buyer is an urban dweller in the 16-25 age bracket, who largely consumes visual content via mobile devices, Instagram should be your top priority, together with YouTube.
Define Your Goal
While your ultimate goal is, always, to increase your sales and revenues, how you want to get there is what counts. Strategically, you have to decide what is it that you want out of your social media marketing efforts.
For example, if building brand loyalty is your priority, Facebook could be your best bet, since it allows you to create communities and engage people. However, if you are after brand awareness, Twitter and Instagram are, perhaps, the most suitable options.
Both the platforms use hashtags for content discovery, which increases your chances of finding new audiences.

Facebook, despite its huge user base, isn't ideal for brand awareness. Since the social media platform is so crowded, your content does not always reach a lot of people, unless you have a big marketing budget to spend on Facebook ads.

Follow Your Competitors
If you are not very sure about where your ideal target audience spends most of its time online, take a cue from your competitors. Follow 2-3 industry leaders in your space and see what platforms they are most active on.
Analyse where they are getting the most engagement from and follow suit.

A Social Media Cheat Sheet to Help You Decide

Typically, it will take some A/B testing to figure out where to concentrate your social media marketing efforts. However, here's a starter's guide to the most popular social media platforms out there and what they have to offer.

Facebook
With more than a billion active users, it is easily the largest social media platform out there. However, the crowd also means that it can be difficult to get your content in front of the right set of eyes.
Moreover, people use Facebook to stay connected with friends, which gives the platform a sense of community.

Best for: Building communities around your brand and increasing brand loyalty
Twitter
At 300 million+ monthly active users, the micro-blogging platform commands a sizeable user base. Hashtags allow for quick content discovery and for sharing breaking news.
Some brands also use Twitter for quick customer support, thereby increasing trust among users.

Best for: Brand awareness; and finding content ideas that will resonate with your audience

Instagram
A large chunk of Instagram users are in the 16-25 age bracket. Similar to Twitter by way of hashtags, it allows for content discovery. However, since it is an image-based platform, businesses with inherent visual appeal work best here.
It is also a lot less crowded than Facebook, which makes it a lot better for lead generation

Best for: Brands that want to reach out to a young audience; brands in the food, fashion, and lifestyle space; lead generation

YouTube
It is the second most-popular search engine out there, after Google. "How-to" videos are a popular category here, which indicates that people use the platform to understand topics they are interested in and know little about.
Brands can use this opportunity to deliver informative content to their target audience in order to establish themselves as an authority figure in their industry. It is also a sought-after option among younger audiences for discovering new music.

Best for: Authority building; search engine optimisation; brands in the electronics and tech space, where "how-to" guides might prove incredibly useful.

Pinterest
It is similar to Instagram, in the sense that it is an image-based social media site. However, it might be a better bet for increasing your conversion rates, since Pinterest users are much more likely to make a purchase.
The platform also has a slightly older demographic. Some content categories that fetch the maximum engagement here include architecture and interior design, and DIY crafts.

Best for: Driving engagement and ROI; brands in the real estate space

Linkedin
With 450 million+ active users, Linkedin is a social media platform geared towards businesses and professionals. If you are looking at B2B lead generation, Linkedin is your best bet.
It is also great for finding new talent.

Best for: B2B lead generation; recruitment; establishing authority in your industry

Other than those 6 popular social media giants, there is Quora and Reddit, too, which can help you engage with your audience directly, and establish authority, in the process. Forums such as Quora and Reddit are also a great way to discover what your target audience is talking about, which can help you generate more engaging content.
We are a Social Media Marketing Company striving to help you reach your potential customers with the help of carefully thought out social media marketing strategy. Contact us now to let us help you drive sales!
Related Articles: