Rich Snippets: An Important and Overlooked SEO Strategy
bonoboz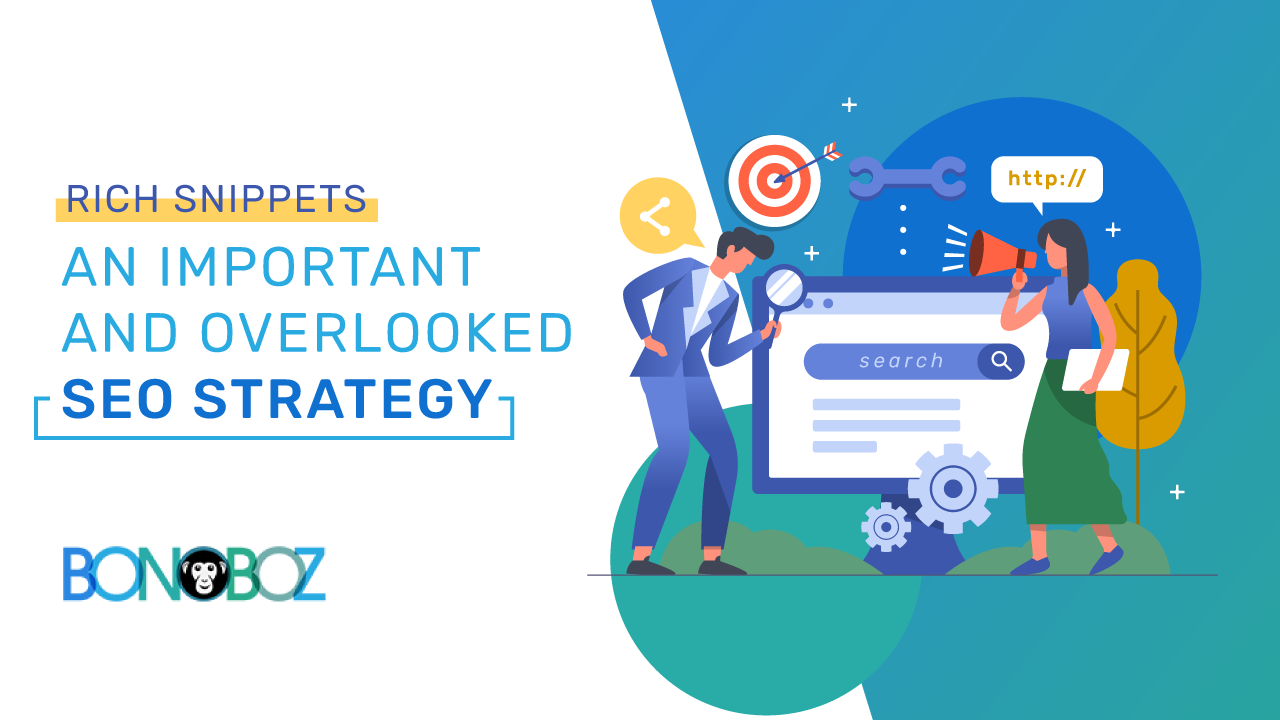 A lot goes into getting your website on the first page of Google and other search engines. High-quality backlinks and good quality content are, perhaps, the most widely used strategies for good search engine rankings. There is another trick to good SEO, something that almost all beginners fail to use: Rich snippets.

What are Rich Snippets?

Every time you search for something on Google, it throws up a bunch of search results. A typical search result on Google includes:

The URL
The headline of the page
The meta-description
A rich snippet is one that has additional information, such as a thumbnail, rating, and user reviews. Rich snippets give users a little more information about the result, which helps in increasing the trust value.
Since rich snippets offer more information, users are more likely to click on it, compared to other results. Hence, rich snippets can directly increase your click-through rates.

Rich Snippets Can Also Lower Your Bounce Rate

Since users have a better idea of what to find on the page, they are more likely to stay on the page, which will increase the stickiness of your website. The stickier your website, better are your chances of ranking higher on Google.

Don't Confuse Rich Snippets With These

Very often, people will confuse featured snippets with rich snippets. Featured snippet is a detailed snippet of a page that shows right on top of all the other results on Google.
You will usually find featured snippets for popular music albums, famous cartoon characters, or general information that people around the world are looking for. The goal of search engines is to help people find information as quickly as possible.

Featured snippets are a step in exactly that direction. Thus, a featured snippet actually lowers your click-through rate, since people get the information without having to click on the URL.
The same goes for knowledge graphs – content boxes that are displayed on the right of the search results. Knowledge graphs give factual knowledge about film personalities, movies, and almost everything to do with pop-culture.

How are Rich Snippets Helpful?

According to Google, rich snippets do not influence the search ranking algorithm. In other words, if rich snippets show up for your website, they will not help you rank higher on Google, directly.
However, as mentioned earlier, rich snippets help you increase your CTRs and lower your bounce rate. Both the factors go into ranking your website higher on search results.
High click-through rate has a direct impact on the search engine algorithm.

How to Get Rich Snippets for Your Website?

In order for Google to throw up results with rich snippets for your website, you need to include structured data markup in your website's code. This specific kind of code helps search engine bots understand your content a lot better.
Thus, you can feed the bots specific snippets of information that you think will be helpful to your target audience.

For instance, if you run a blog on food recipes, you can add cooking time, user ratings, and a thumbnail image to make your search results look more appealing and trustworthy.

There are several ways to add structured data markup to your website. These include:

Google's Data Highlighter – It is the simplest and most straightforward option to highlight structured data on your website. If you are a beginner with little knowledge of code, this is your best bet.
Google Tag Manager – If you are already familiar with Google's Tag Manager, you can also use it to add structured data markup. Here is a quick guide on using Tag Manager for structured data markup.
Manually – If you are comfortable around code, you can do it manually. You can use three formats for structured data: Microdata, RDFa, and JSON-LD.
Common Content Types Where Structured Data Markup is Used

Products – If you run an ecommerce store, you should absolutely use structured data markup. You can add information such as price range, image, brand, and user reviews to your search result snippets, and entice users with more information
Reviews – Any kind of online aggregates can add structured data markup to reviews on their website. You can choose to show individual as well as aggregated reviews
Businesses – You can add information such as opening hours, address, logo, and business name to your business page
Videos – Embedded videos can be tagged with such information as duration, license, and the creator of the video
Music – Related songs, previous music albums, links to additional content, and streaming links are some ways to add structured data markup to music on your website
Do Not Make This Mistake When Adding Structured Data Markup to Your Website

Even if you have added the correct code to your website, it is not a guarantee that Google will show rich snippets for all your pages. It might choose to show rich snippets for some while omitting others.
Once you have added the code, Google takes about 2 weeks to start showing rich snippets.

However, rich snippets for your search results can come and go. It is only after a period of 2 months that rich snippets for your pages can become (sort of ) permanent on Google.
Therefore, it is very important not to constantly tweak the code and the kind of data markup you are adding to your website. The tweaking is recommended only after 2 months have lapsed and you aren't getting the desired results.
While we strive to be the best SEO company in India, we don't cost a bomb. Contact us now to learn more about our SEO packages in India and to get a quote. 
Related Articles:
5 key things every entrpreneur and CEO needs to know about SEO
Related Articles: