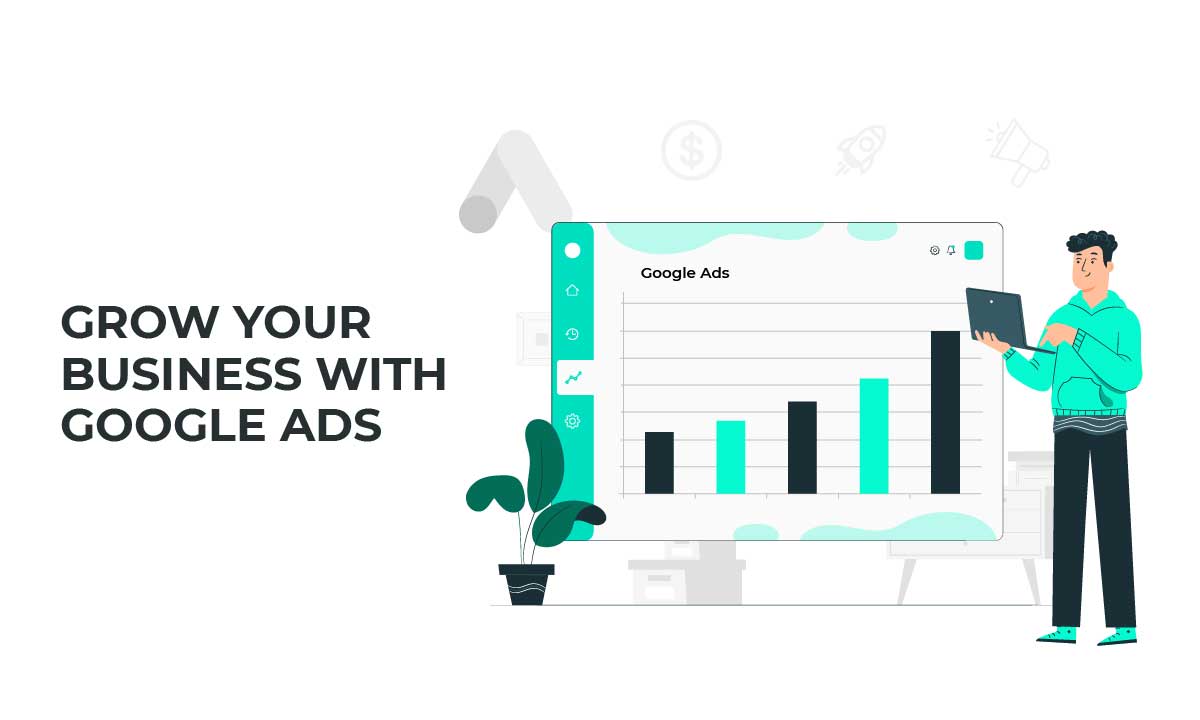 Grow Your Business With Google Ads
Bonoboz
As one of the most extensively used search engines, Google is no stranger to a growing online community. Over a million people search Google every second, and the vast majority of the results are ad-supported.
As a necessary tool, it has the potential to be an efficient means of bringing targeted and qualified traffic to your website. Accordingly, a PPC management agency can help your business succeed if the tactics are applied effectively. Here, we'll look at how Google Ads can help your business.
So, What Exactly Is Google AdWords?
An advertisement is something that appears below the search bar next to some results when you look for something on Google.com, so you may have seen it before. Typically, businesses pay to have their ads displayed in Google's search results.
But how likely is it that this will work out? Do searchers prefer to click on paid listings over organic ones?
Approximately $146 billion in revenue were generated by 7 million firms using Google's search and advertising capabilities in 2020. So, if you can make it work, you could have an ample amount of leads that are primed for conversion. 
Google Ads: How Do They Work?
Using a PPC management agency with Google Ads is one of the most popular and frequently used methods in the world today. It operates in much the same manner it has for the past decade. Companies hire professionals to choose keywords or key phrases they want to appear for in their client's Google searches, and the agency optimizes the platform to display the same at the right place and the right time.
For example, when a user bids on keywords based on how much they're willing to spend. If you have a Google ad running, it has a good probability of showing up at the top of relevant search results. In the ad bank, the links provided have an excellent possibility of generating traffic and conversions because they are always placed above the organic search results list.
Furthermore, several other Google services and apps may also show Google Ads. In addition to the aforementioned, Google also provides Maps, Play, Images, and Shopping. Even if your target audience is on YouTube, Gmail, or any of their other favourite websites, you can target them with advertisements that appear when they are on those sites.
You created a PPC campaign. Now what?
If anyone clicks on one of your ads on the Google display network, you will be charged the precise amount you bid on the keyword or key phrase associated with that ad placement. Ads that are shown but not clicked on never cost you a dime, but every click costs you money, regardless of whether it results in a sale.
How Effective Are Google Ads These Days?
As of this writing, Google has more than 3.5 billion daily users and processes more than 1.2 trillion requests every year.
Every second, Google receives an additional 40,000 queries, each of which is associated with an individual who may be interested in the items or services you offer. So, is Google advertising worth the money? Definitely, there will be no change in that in 2022 or any other year. That is why you should use them in your marketing strategy as well.
Reasons Why You Must Use Google Ads 
1. Helps Build Brand Reputation
With the help of Google Ads, you can not only increase traffic to your website but also increase your company's name recognition among potential customers. Posting on a regular and consistent basis aids in the reinforcement of your brand's identity and reputation on social media. Having these in place is essential if you want to earn your client's confidence.
Even if people don't click on your advertisements, they see your brand and what you stand for through the ads search network. Your brand's identity should shine through in the tone and content you produce.
Lastly, expanding your ad's reach and attracting a wider audience is one of the benefits of using the Google Display Network. It is possible to strengthen your business and your brand by using both approaches – organic and paid at the same time.
2. Helps Achieve Cost-Effective Marketing Strategies
To successfully run Google Ads, you need to know exactly how much money you have to work with. A campaign's daily budget and maximum bid both need to be considered. A more cost-effective strategy can be achieved if this is properly planned out.
Moreover, you may also set a budget for each month and adjust it based on how well your ad performs. If an ad is doing well, you should consider increasing the amount of money invested in it. Ads that aren't performing well can be replaced with more effective ones.
3. Makes Your Business Highly Scalable
Google Ads has the advantage of being scalable, allowing you to reach a larger market with ease. Indeed, Google Ads campaigns work best when targeting a wide audience. Your firm has access to an almost infinite amount of potential customers because of the countless Google searches that take place every day.
4. Provides Instant Results
You might spend months or even years trying to figure out how to get your website to the top of Google's search results page, or you could go with a PPC campaign management and bypass all the hard work.
You see, Search Engine Optimization (SEO) is a long-term technique that works best when given sufficient time and efforts (i.e., weeks and months).
For instance, on a typical day, you would receive warm leads from Google Ads that you set up earlier in the morning. Google Ads provides results swiftly after establishing criteria like keywords, headlines, geographic market, bids, and landing page.
5. Makes It Simple To Monitor Your Advertising Campaign
One of the most important aspects of a marketing strategy's success is creating and implementing an effective PPC campaign. The rest of the process is all about keeping track of the data and thoroughly evaluating it.
Hence, Google Ads is one of the most comprehensive and user-friendly analytics packages available. A quick look at your data will provide you with all of the information you need about how a given campaign is performing.
The following are a few examples:
Keyword search volume

Click-through rate (CTR)

Cost-per-conversion (CPC)

Ad quality score

Ad position ranking
A seamless side-by-side comparison of organic and paid search results is possible if your Google Ads and Analytics accounts are linked. In other words, when you use Google Ads, you get a lot of what you need to market more effectively over time.
6. Helps Reach Customers At The Ideal Buying Time
Take a small moment to think of a time when you were shopping for a certain product or service. You were prepped and ready to buy before you even started looking at the possibilities on Google.
As your Google Ads appear before even the finest organic search results, you'll be able to contact your target audience at the exact moment they're ready to make a purchase. In other words, Google advertisements make certain that your product is seen by the appropriate audience at the appropriate moment.
7. Enhances Remarketing Efficacy
Remarketing has a plethora of options now that nearly everyone on the planet uses Google's services in some way. That means your retargeting advertisements can be shown on a wide range of platforms.
SEO vs. Google Ads: The Superior Choice?
The final goal of both Google Ads and traditional SEO is the same. Both are concerned with attracting the correct visitors to your website, which hopefully will lead to sales and long-term clients in the future. Both take advantage of Google's unmatched audience reach. So, either one can help you reach a potential customer base interested in your catalogue.
But, marketers must be aware of important distinctions between the two:
The results of successful SEO initiatives take longer to appear, but PPC campaigns drive traffic nearly immediately. The flexibility of a PPC management agency allows you to make quick changes to your campaigns on the fly, whereas SEO strategies normally evolve over time.
Ads like Google Ads and other pay-per-click (PPC) advertising services help you achieve many of your marketing objectives. You'll receive sales, traffic, and brand exposure if your ads are well-written and well-optimized, especially if they're well-targeted. But they are not a substitute for SEO. As it gives businesses the highest chance of being found by the exact audience you're trying to reach, SEO has become a standard aspect of digital marketing.
After a while, the results are undeniable, considering you get the logistics correct. If you're planning a PPC campaign management for 2022, both Google Ads and traditional SEO will still be important tools. When it comes to establishing long-term authority and gaining a following, SEO still reigns supreme.
Conclusion
It doesn't matter if your brand is established or just starting up; Google Ads is a wonderful fit. Using this approach, you can reach qualified, in-market customers at a low cost when done right. As a general rule, it's ideal to start small and scale up if your PPC campaign management is bringing in a steady stream of reasonable and productive revenue.
FAQ's

How can Google ads help you achieve your business objectives?
Google ads gives your business the opportunity to build leads through the different phases of the customer journey. It can help build brand awareness, influence brand consideration, and develop direct leads as well. This process can help achieve business objectives like reaching the targeted yearly sales revenue, developing outreach for your brand, and so on.
Are Google ads worth it for my business?
Yes, if you are running a business then Google ads are one of the best options you can use to leverage your brand. Your target audience is on Google and your competitors too. It's also a cost-effective approach to reach your target audience. You can start and stop Google ad campaigns based on its performance and budget.
Why Should I hire a Google ad agency for my business?
A Google ad agency has the necessary expertise that is needed to promote your brand online. They know how to filter audiences based on your business through the filters present on the Google ad platform. They can also identify any technical campaign ad issues, use A/B testing effectively, and properly analyze campaign ad performance for improving lead generation tactics.
What are the different types of campaigns used in Google ads?
The different types of Google ads include: 
Search Text ads

Display ads

Video ads

Responsive Search ads

Dynamic Search ads

Shopping ads

App Promotion ads

Call-only ads

Local Service ads

Local Search ads
Related Articles: