Moment marketing: The Next Big Thing in Content Marketing
bonoboz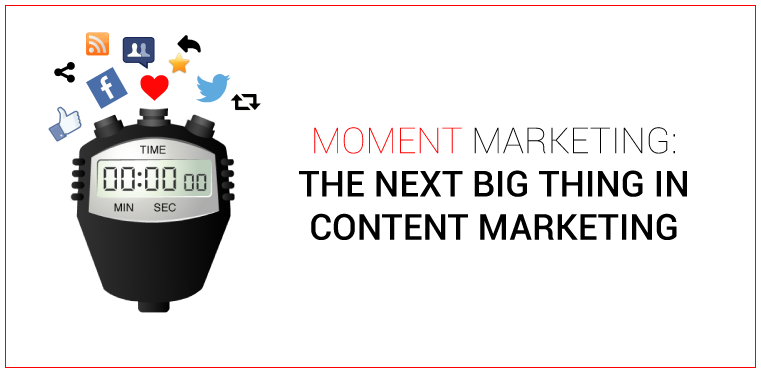 The Super Bowl is the annual championship game of the NFL, the highest level of professional football in the United States. It has frequently been the most-watched American television broadcast of the year.
Because of the high viewership, commercial airtime during its broadcast is the most expensive of the year, leading to American brands developing their most expensive advertisements for this broadcast.
But in 2013, something changed. One of the most buzz-worthy ads of the Super Bowl wasn't even a commercial — it was a mere tweet from Oreo.
The power went out at the venue during the showdown. Oreo seized the opportunity, and tweeted this during the thirty-four-minute hiatus:
Power out? No problem. pic.twitter.com/dnQ7pOgC

— Oreo Cookie (@Oreo) February 4, 2013
This particular tweet was retweeted 10,000 times in the next one hour, according to AdAge. The creative was shared on Twitter and Facebook more than 20,000 times and garnered 525 million earned media impressions. This means that the most powerful bit of marketing during the advertising industry's most expensive day might have been free.
Take a moment and let that sink in.
We're talking about media spends that go into ten's of millions of dollars and here is something that was as good as free, capturing everyone's imagination.
The advertising and marketing industry was puzzled over how a successful and had gone from conception, to design, to approval, to live in merely 24 minutes.
A lot of people may attribute such a simple, timely tweet to chance but the truth is that it takes a proper understanding of the medium and a compatibility to work at the pace it requires, to seize the moment and do something big.
We're amidst a large-scale shake-up in the way marketing teams around the world strategize their plans. Since the Oreo tweet, seizing a topical moment to offer a clever on-message observation has become the standard practice for many brands.
Moment Marketing in India
However, this concept is not entirely new. Among Indian brands, Amul is probably the best example of effective moment marketing. Quick, satirical responses by the Amul girl have made it much more than just a dairy product brand. The Amul girl took on all the trending events in India through ads in leading newspapers, using a tone of voice which is easily identifiable by the brand's target demographic even before the introduction of social media platforms,
Amul Topical: #Oxford dictionary's word of the year! pic.twitter.com/ogNqkk6n20

— Amul.coop (@Amul_Coop) November 19, 2015
eCommerce giant, Flipkart also paid a fitting tribute when Nintendo's founder, Satoru Iwata passed away in July this year.
Countless childhoods wouldn't have been as fun without Nintendo. Thanks for the magic Satoru Iwata. #RIP pic.twitter.com/QRZzJT8muX

— Flipkart (@Flipkart) July 13, 2015
Pluto's first image was among trending topics on most social media platforms when it was captured by NASA's Pluto mission. The interesting part – there is a heart-shaped formation on the planet. Businesses with 'love' as their brand proposition of could have easily capitalized on this, but what Cornetto India did was even better.
The ice-cream brand shared a short & sweet love story from Terribly Tiny Tales that weaved in the heart seen on Pluto.
In other news, a large heart was found on Pluto. #Cornetto couldn't rejoice more with this revelation. #ShareTheLove pic.twitter.com/yeqkF7MRjp

— Cornetto India (@CornettoIndia) July 14, 2015
By looking at these success stories, it's clear that brands will benefit greatly from making their marketing efforts topical and reactive in today's digital world where marketing is no longer a one-way communication, but a two-way conversation.
The right moment marketing not only helps in creating a fresh and relevant brand image but also leads to an increased customer engagement and brand loyalty. So keeping this insight in mind – how can you use moment marketing to effectively engage with the audience on your brand's social media channels? Here are some pointers to get started:
1. Identify relevant events
The important thing for brands to remember is that you don't need to be a part of every conversation. Trending events might look tempting to increase brand visibility but consider 2 key factors before sending out that tweet:
a) Relevance to your audience
b) Relevance to your brand's core values
2. Marketing team Culture
The truth is – you have to inculcate social into the very DNA of the brand's marketing team and the creative agency. Together, these teams should be constantly looking out for newer opportunities to display values of the brand that may fit in with an external event to make a great brand connect. The reason is simple – even though moment marketing is real time, it needs planning ahead.
3. Get personal
You can leverage events to have personal conversations with your audience. Personalization drives more engagement with your brand than any amount of measurable impressions could generate and makes talking to a brand enjoyable.
4. Be fun & funny
One of the biggest benefits of moment marketing is – it gives brands an opportunity to become more human. Brands can post seemingly silly & funny stuff, and effectively engage with the meme-obsessed generation. However, for brands which are used to using a serious tone of voice in their regular communication, this can backfire easily.
5. Appropriateness
Moment marketing can show your brand's significance to current events, but be careful not to try too hard to align your product with anything and everything. Brands should not, under any circumstances, try to sneak in a marketing message during a crisis. Always assess how real-time content aligns with your brand, fits into your wider marketing objectives, and how your audience might respond.
To sum up, moment marketing or real-time marketing basically encapsulates how we stay connected with people through shared interests and common goals. The same applies to brands trying to build a relationship with new and existing audiences – you have to know what's important to your audience and make sure it's important to your brand. The role of content has always been important for brands to get noticed, but the frequency and nature of it are changing rapidly and the time to embrace it is now.
Related Articles: