How To Use Boomerang Instagram To Boom Brand's Social Media Content
bonoboz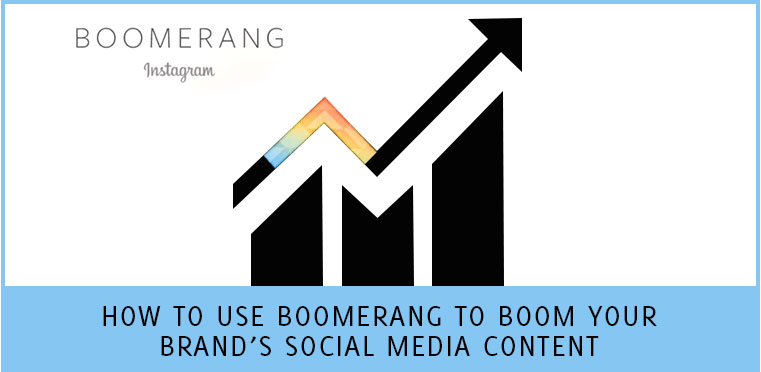 It's a video…It's a GIF…It's a Boomerang!
The latest addition to the GIF party is Instagram's new standalone app – Boomerang.
On October 22nd, the Facebook-owned company rolled out Boomerang, an app for iOS & Android users for creating endlessly looping short videos.
What is Boomerang?
The app creates 1-second videos from a burst of 5 photos, which play forward and backward; hence the name Boomerang.
How To Use Boomerang Instagram To Boom Brand's Social Media Content
Boomerang does not require logging in to the app and the videos are automatically saved to the camera roll on the user's phone. Users can choose whether to shoot in portrait or landscape mode. The app also has a very user-friendly interface, with just 2 screens – A Capture screen & a Sharing screen.
The Sharing screen has dedicated buttons to share the videos on Instagram or Facebook and a 'more' button for sharing on other apps. Though, it might be important to remember that the format used to save these files is not GIF. Hence they don't loop continuously on platforms like Facebook, Twitter or Whatsapp. But fortunately, they do loop endlessly when embedded on a page.
Boomerang seems to have used the 'shortening attention spans' of their target demographic to their advantage. It might become an ideal tool to capture things which can't be encapsulated using just a photo, but are too short for a video. It also makes it easy to stand out n a feed filled with breathtakingly beautiful photos & the usual clutter of babies, dogs, food and pouts.
Another added benefit for brands and users is the fact that coming up with a gripping 1 second video is much easier than a proper video which is interesting throughout (though capturing it requires more precision).
The American musical duo, Twenty One Pilots were among the first to use boomerang for their promotions. They created a series of 10 boomerangs to promote their upcoming Blurry face tour.
A video posted by twenty one pilots (@twentyonepilots) on
Oct 22, 2015 at 9:31pm PDT
Brands like Timberland & Elle France used boomerangs to flip through their catalog and magazine respectively – not an effective use of Boomerang though.
A video posted by Timberland (@timberland) on
Oct 22, 2015 at 8:14am PDT
A video posted by ELLE (@ellefr) on
Oct 23, 2015 at 6:37am PDT
Boomerangs, if used effectively can help in making a singular action related to the brand iconic. Think of Oreo making a cookie dunking Boomerang, Coke making a Boomerang of opening the bottle with the fizz rising or even the Country Club dude gesturing a thumbs up!
American tech news network Verge used Boomerang to demonstrate the Microsoft Surface Book Laptop's versatility feature.
A video posted by @verge on
Oct 22, 2015 at 8:40am PDT
Cosmetic brand Benefit also used Boomerang to show their easy to use mascara.
Nudge, nudge, wink, wink 😉 Who else is playing with #boomerang today!? #benefit
A video posted by Benefit Cosmetics US (@benefitcosmetics) on
Oct 22, 2015 at 4:20pm PDT
In conclusion, when creating content using Boomerang to engage with your followers, it is important to consider two things which are universal for all types of visual communication.
First: what are you showing?
Second: how are you showing it?
Also Read: Facebook's 360 degree post is raging! Here is how your business can benefit from it
Related Articles: