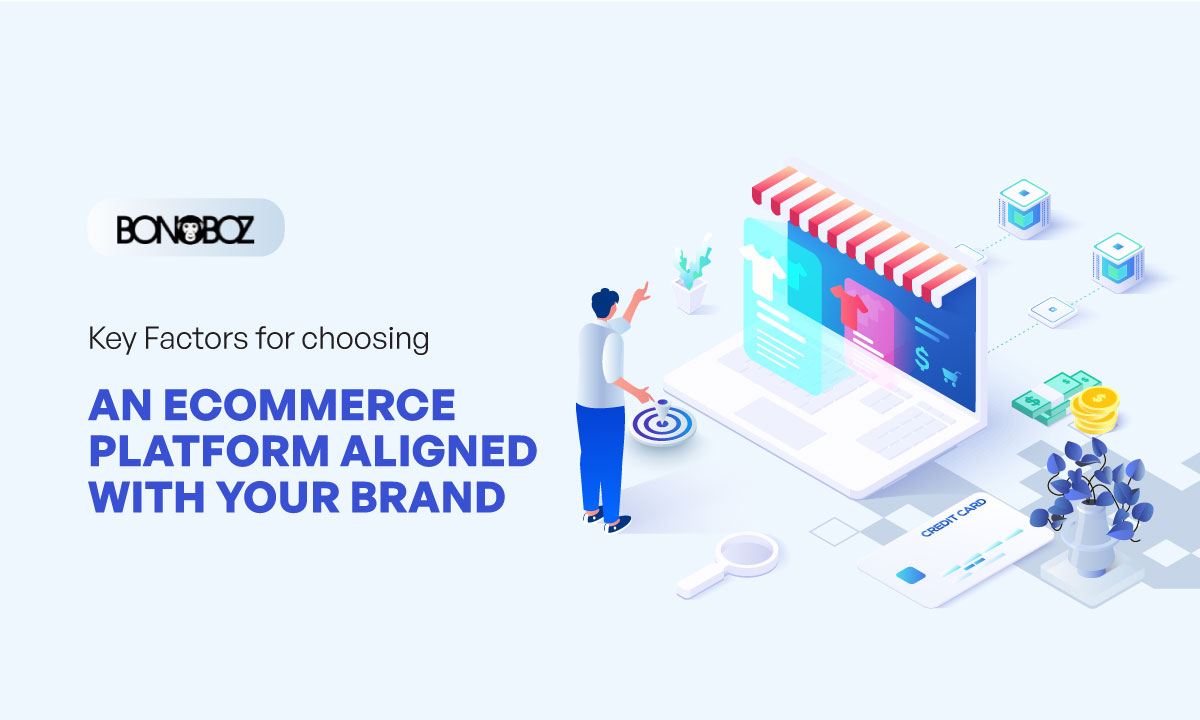 9 factors to consider while choosing an eCommerce Platform that Fits Your Brand
Abhik Basu
Having an online presence can cause significant ripples in the growth of your business. Whether your business is small, a startup, or a large enterprise, choosing the right e-commerce platform is important. Thereafter, following through with the right ecommerce website development services is essential.
Why is choosing the right platform important?
A suitable e-commerce platform is your one-stop destination to seamlessly manage your operations, website, marketing, and sales. It streamlines your operational efficiency and helps your business grow phenomenally.
Given the options now available and with each platform offering different features, benefits, and costs, choosing an incompatible platform can cause disastrous effects. Apart from leading to wasted growth, it also incurs extra costs and missed opportunities for growth.
Thus, with the right platform you can increase your customer engagement, offer robust customer service, and enhance the growth rate of your business thereby boosting sales and profits.
9 factors that you should consider while choosing a suitable e-commerce platform
Ownership of Hosting and Platform
Ecommerce platforms can either be self-hosted or on the cloud. The self-hosted platform can be an expensive option as you will have to deal with the installations and the updates yourself. However, it does offer great control over the online platform and offer better security management.
Cloud-hosted platforms can be economical and offer better customer support. However, the control over the servers is usually less and so is the security. Thus, you should consider these factors before choosing a suitable hosting
Cost of Ownership
Most e-commerce platforms charge a monthly fee. Thus, businesses should be aware of the pricing before choosing a specific platform. You should consider the pros and cons of the platform and then determine if the platform suits your budget. Taking the time to evaluate your options will help you make an informed decision that aids your business to function optimally.
Integration
Third-party integrations are a necessity for most e-commerce websites. Thus, you should choose an option that offers easy integration. You should be aware of whether the e-commerce platform you are choosing offers the integration and plugins that you require. Some of the most popular integrations and plugins are: – Accounting, Payment and Shipment,3rd Party digital tools, customer loyalty programs, and email marketing.
User Experience
Businesses can grow their customer bases phenomenally by offering excellent user experience. Thus, your preferred e-commerce platform should offer you a variety of theme choices for designing your website. It should help you create an immersive and engaging environment for your customers
Speed and Scalability of the platform
Speed and Scalability of the platform can be a very important factor based on your business goals. In case your goal is to grow your business substantially in the future a scalable platform can be of immense help to you. Apart from scalability, you should also choose a platform that offers peak performance.
It should also allow you the opportunity to fix slow loading times, frozen pages and 404 errors. Alternatively, you can choose a cloud-based scalable solution to satisfy the growing needs of your business.
Product Management System
To create a compelling shopping experience for your customers you need an efficient product management system. This is why you should always choose a platform that offers an efficient Product Management System.
You should make sure that the e-commerce platform that you are choosing offers features as well as functions like bulk product upload, categorization, advanced features, shipping options and dynamic filters. This way you can create a robust system that maximizes your profits and offers you multiple opportunities.
Platform Security
Security plays an important part in today's digital age. A security breach can cause significant damages and may cause data theft. The consequences of a security breach can be far-reaching, impacting not only affecting your business but also your customers and partners. They are a relatively common occurrence and thus you should always choose a platform that offers optimum security.
As a business owner, you will be handling a lot of sensitive data such as customer information, financial details and other confidential data. This is why you should look into the security credentials of any e-commerce platform and ensure that they have PCI compliance, SSL and offer secure data backups.
SEO Capabilities
Most online shoppers make use of search engines to look for their desired products. This is why your e-commerce platform should allow you to easily optimize your content for SEO so that you can rank higher in the Search engine results pages.
Organic SEO can sometimes take a lot of time and effort therefore your preferred platform should have built-in practices and keep up with the ever-changing algorithms of search engines.
SEO Capabilities of e-commerce platforms may include: – keyword research tools, customizable URLs, updating metadata, captioning, describing images, adding canonical tags, and pagination.
Payment Gateways support
Ensuring a seamless and convenient payment experience for your customers is crucial for your e-commerce store, and this requires integrating with a reliable and secure e-commerce payment gateway.
A payment gateway acts as a dedicated processor, securely facilitating the transfer of funds from your customer's bank accounts to your business account. However, it's important to note that not all e-commerce platforms are compatible with every payment gateway, and localization of the payment process plays a key role, particularly in terms of geography and regional requirements.
Therefore, it is essential to choose an e-commerce platform that allows easy integration with a compatible and trusted payment gateway to provide your customers with diverse and secure payment.
To remove any uncertainties, you can choose to partner with us for your ecommerce website development. Bonoboz can help you in setting up and optimizing your e-commerce platform. Our tried and tested strategies can be monumental in helping you grow your business and generate profits. With our dedication and expertise, we will ensure that your e-commerce website is set up and optimized to its full potential. 
FAQ

What should I consider while choosing the best e-commerce platform for my business?
The e-commerce platform should be mobile-friendly.

Make sure the e-commerce platform has room for introducing key features like plugins, including tax calculators, shipping tax, accounting, email marketing, third party, tools, etc.

The platform should have a streamlined order management system like order tracking, shipping services, etc.

Consider your budget, from design and development costs to hosting and maintenance fees.

The platform should integrate well with shipping couriers along with plugins that efficiently manage inventory, shopping carts, and checkout display.

Should have robust security features.

The e-commerce website should have optimization features.

The platform should be able to expand as per the increasing customer base online, visiting your website.

It should have a properly functioning payment gateway integration portal.
How would I know which e-commerce platform is fit for my business?
This is based on the requirements of your business. For instance, a business that manufactures green tea online will have different requirements from an e-commerce platform compared to a business that sells all kinds of beverages, from tea to coffee, juices, milkshakes, and colas.
Is e-commerce a suitable choice for growing my retail business?
These days, 80% of customers are browsing a product online to make a purchase. It saves them the time of traveling to a store and buying a product. It is more favorable to start your retail business online, but make sure to do proper market research before you begin to develop a website for the same.
Is e-commerce the future of retail?
E-commerce is likely to grow and continue growing in popularity. However, it is not likely to replace physical stores but rather boost and complement its presence.
What is the next big thing in e-commerce?
One of the most interesting aspects to look forward to in the world of e-commerce is the use of social commerce, conversational commerce and chatbots. It also includes the use of AI and machine learning for more immersive experiences with customers
Related Articles: