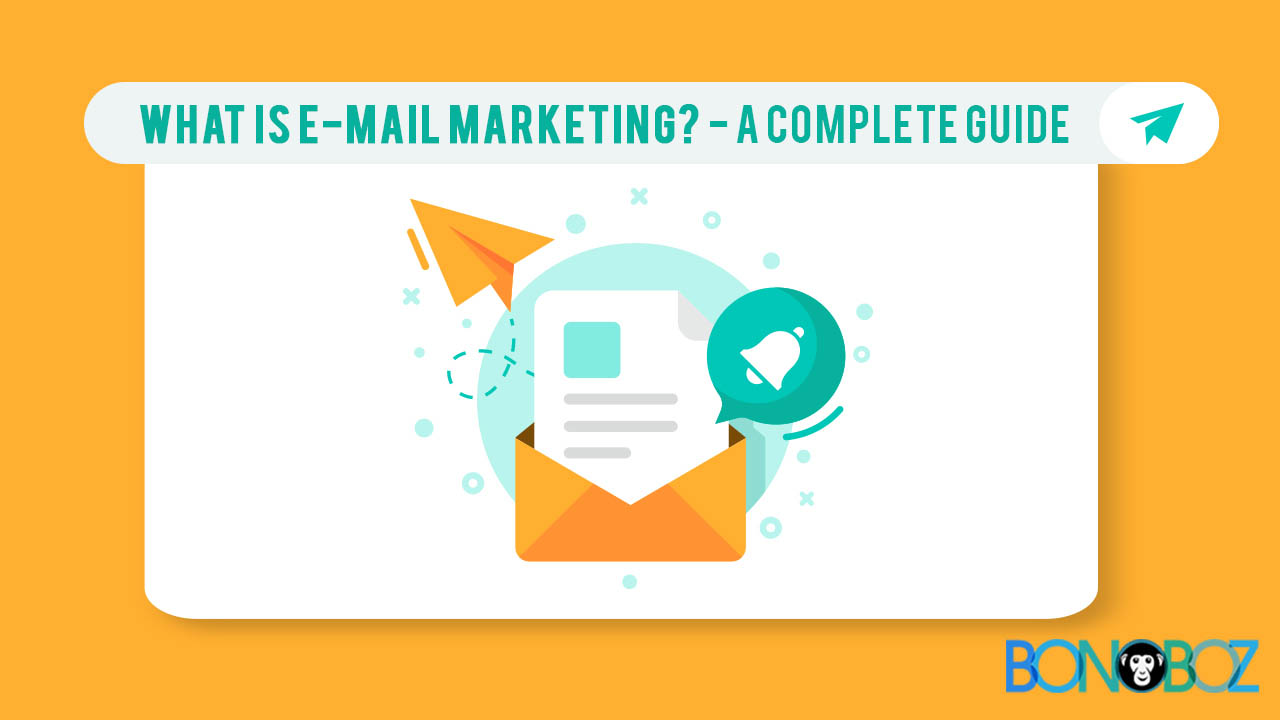 What is E-mail Marketing: A Complete Guide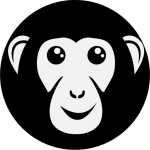 bonoboz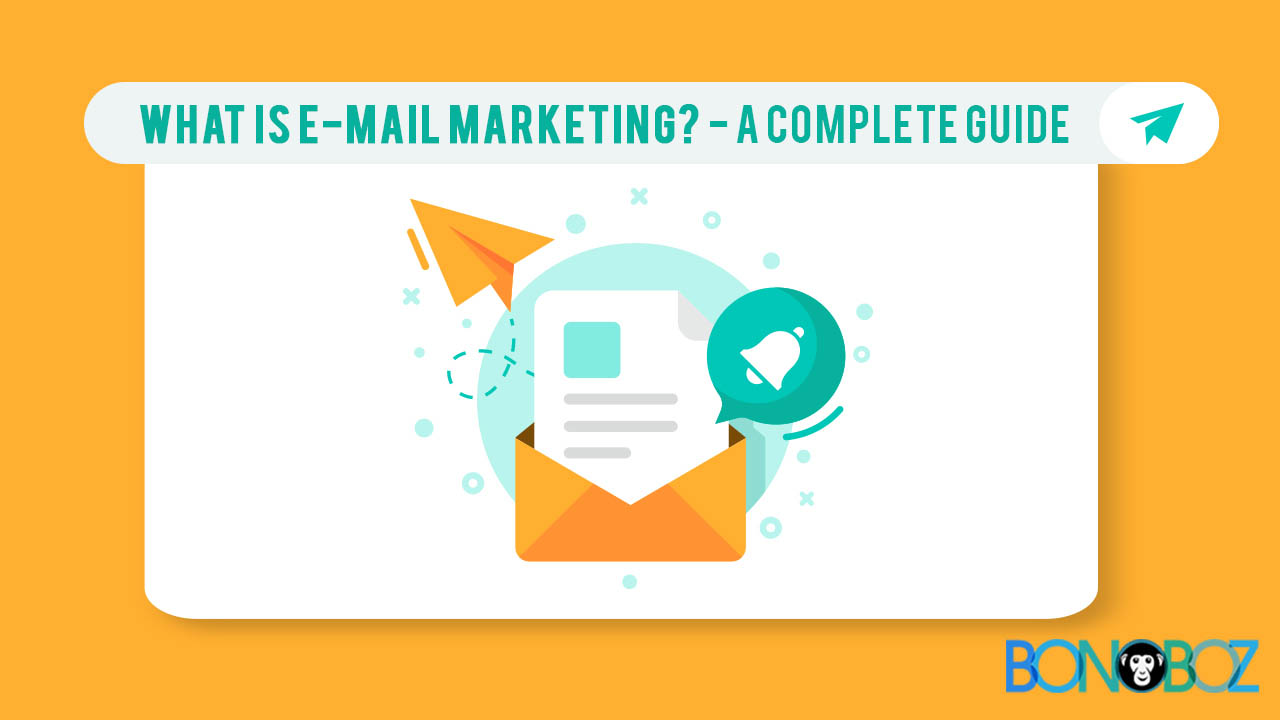 E-mail marketing is a digital marketing strategy that uses mail to convert leads into customers, and customers into loyal fans.
When used correctly, e-mail marketing can deliver impressive results.
There were 3.8 billion email users in 2018 worldwide. In the US alone, almost 50% consumers prefer receiving emails from brands over other forms of communication.
In fact, e-mail marketing delivers an average ROI of a whopping 3800%, better than any other form of digital marketing out there. 
However, a lot of things need to come together for e-mail marketing to be effective.
Here, you will find useful tips on how to build your e–mail list, segment it for better targeting, best practices for automated e-mail marketing, and how to improve your e-mail open rates.
Building an E-mail List
The most important part of e-mail marketing is building a list of prospects who might be interested in what you are selling. The simplest way to build an e-mail list is to include an opt-in form on your website.
However, the simple strategy rarely works. You need to give people a very good reason to subscribe to your e-mail list.
Offer something of (perceivably) good value for free. It could be:
E-books
Discount coupons
Samples of product
White paper
Case study
Self-assessment
Free trial of your services
It can be anything as long as it is relevant to your audience. Relevance is only part of the puzzle, though.
When creating content for building your e-mail list, make sure:
The content is easily digestible. Even if you are putting out a really detailed ebook, format it such that people can easily find relevant sections. 
The content is useful to your target audience. It should deliver information that is not commonly available on the internet. 
The content is available for download immediately. Instant gratification is key to the success of e-mail marketing.
Creating a Landing Page That Converts
Once you have created a free offering that will entice your target audience, it is time to create a landing page. A landing page tells your audience about your free offer and why you should grab the offer.
A good landing page has the following characteristics:
A strong headline – The headline should immediately tell people the main benefit of your free offering. Use words such as "Free" and "Now" to make it even stronger
Enticing visuals – The images that you use on your landing page are just as important. If you are offering a product, high-quality images of the same is the most obvious strategy. Images of smiling faces, or eyes looking in the direction of the download button also work. 
Call to Action – Your call to action should be short, simple, and to the point. While "Download for Free" can work, try to be a little more creative in order to stand out from the crowd. 
Right colour scheme – The key information on your landing page should be easily readable. Use contrasting colours to direct users' attention to key areas of your landing page. For example, use contrasting colours on your download button in a big font to make it stand out from the rest of the page. 
Useful information – Tell users what the offer is all about, in brief. Break it down into bullet points to make it easily scannable. 
A simple form – Don't complicate the subscription form. Limit the required fields to 3, including name and e-mail address.
A/B Testing
It is important to create different versions of your landing page in order to check the kind of messaging that works best for your audience.
The most important elements of your landing page that you should be A/B testing for are:
The headline
The images
Call to Action
The colour scheme
Automating E-mail Marketing
To begin with, you can create an Excel sheet of your e-mail list and do things manually. However, as your list grows, doing things manually can become very tedious.
Thankfully, there are e-mail marketing platforms that let you automate the entire process. Most e-mail marketing platforms even have a drag-and-drop editor that lets you create beautiful email newsletters.
Mailchimp is, perhaps, the most popular e-mail marketing platform out there. It has a free tier for up to 2,000 subscribers, and features such as autoresponders and smart segmentation.
Other notable e-mail marketing platforms include Constant Contact, Aweber, and Drip. 
Segmenting Your Lists for Better ROI
Most e-mail marketing platforms allow you to divide your e-mail lists into smaller segments based on user-defined criteria. By segmenting your e-mail list into smaller groups, you can use the power of personalisation to improve your e-mail open rates, and increase the overall ROI of your campaign.
For instance, if you are an ecommerce store, you can segment your lists according to frequent buyers, occasional buyers, and people who have abandoned your store. Set up autoresponders for each category that are sent at specific intervals.
For example, you could give occasional buyers a special, limited-time offer to entice them to buy from your store. 
How to Improve Your E-mail Open Rate
In 2018 alone, more than 280 billion e-mails were sent and received, every day. As an e-mail marketer, how do you stand out in such a saturated space?
Here are some tips:
Timing is important
Send e-mails at different times of the day and week. A/B test the results and see when your subscribers engage the most with your emails.
If you have segmented lists, you might need to do this A/B testing separately for each list. 
Subject Line is Crucial
Your subject line should clearly tell the users what the e-mail is about. Do not try to be too clever with your subject lines.
Use a conversational tone and keep it friendly. 
Personalise
Every e-mail marketing platform allows you to personalise the [To] and [From] fields. Make sure you personalise your e-mails.
Use first names. At the same time, write in a language that will resonate with your subscribers.
For this, you will need to define your buyer persona. For example, if you are a music streaming app, your major target audience is probably, going to be people in the 16-35 age group. 
This age group typically uses a lot of emojis in its conversations. Thus, to set a friendly tone, don't be afraid to use emojis when marketing to this segment. 
We are a digital marketing agency based in Ahmedabad, India that provides a bouquet of digital marketing services.
We have experienced digital marketing specialists who will craft the perfect digital strategy for your brand.
Read More:
Related Articles: