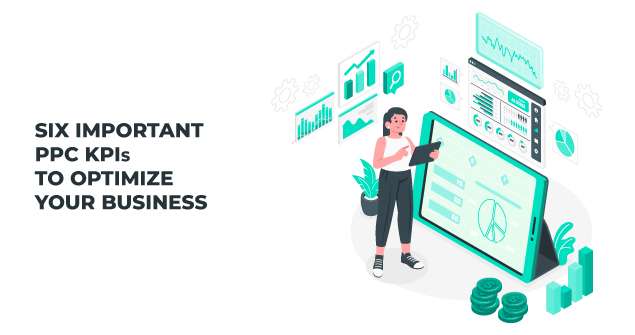 The Six most significant PPC KPIs for Your Business to Track and Analyze
bonoboz
You're running an ad campaign for your brand and you're excited to know the end result. But, how do you judge the end result? How would you know whether views, shares, leads, and so on that were achieved were successful?
This is why defining your PPC or Pay-Per-Click KPIs or Key Performance Indicators is essential. In knowing your PPC KPIs, you will understand how the ad campaign performed, where improvements need to be made, and what went well.
As a PPC agency, we have worked with several clients from varied industries, enough to identify the type of KPIs most suited to them.
We're a PPC management agency, and today, we're here to help you understand the six most crucial PPC KPIs to benefit your brand's business.
The six most significant PPC KPIs for Your Business to Track and Analyze
Firstly, it is crucial to identify and set in stone the brand marketing goals specific to each online ad campaign. What are you trying to achieve through the ad campaign?
Some of our clients want relevant leads for their ecommerce brand; whereas some clients want a wider audience to get to know their brand exists. So, it is important to understand what you want to achieve through the PPC advertisement that you run.
Let's take you through the KPIs that can help you align your marketing goals with your campaign's end goal.
If you're looking for sales through ecommerce purchases, in-store sales, or leads – the goal is the same. However, the starting point may differ; for instance, for an ecommerce brand, having tracking in place to measure sales along with additional purchase data is a fundamental KPI. On the other hand, using first-party data to connect in-store transactions back to the ad campaign can work well. As a professional PPC management agency, we also measure store visit metrics for some of our clients with in-store services to estimate the foot traffic.
For lead generation campaigns, the most crucial KPIs are lead volume and cost per lead. However, it is important to understand that not all leads are related to the same meaning, like a phone call inquiry can be a lead. On the other hand, a 'book appointment' can also mean a lead.
Some of our clients have struggled with their agenda from whether they should look for clicks or sales. This is when we suggest the Marketing Mix Modeling strategy. With this strategy, advertisers can monitor trends by analyzing the performance baseline and checking the performance against the baseline post a few marketing efforts.

Return on Ad Spend or ROAS as your PPC KPI
The ROAS metric is used to check whether what you spend on your ad is driving the necessary and expected value. ROAS is calculated by dividing the revenue by the amount you spend on an ad campaign. 

This is probably one of the most important KPIs of all. At the end of the day, it's the revenue that you are chasing. Collecting the data of revenue collected needs to be done all the way through the offline sales processes as well. If you are challenged with the gaps between online presence and offline sales processes, work to pull the data using estimated sales data and average order values. This process can give you a rough idea of how the campaign has performed and whether it met your marketing goals.
To ensure that your campaigns are driving value after all the costs are accounted for, it is crucial to consider the profit and Return on Investment or ROI value. ROAS alone cannot provide all the answers in the long run as it doesn't warrant for any other cost beyond the ad spend.
ROI, in the world of finance accounts for the profit and cost involved, whereas in PPC ad campaigns, the dynamics are slightly different.
PPC click costs include additional costs of producing products, fulfilling orders, cost of returned goods, and credit card processing costs. Additionally, you have to consider the online customer service costs, and the salaries of the people who attend to email inquiries and phone calls through the PPC campaigns.
That said, lead generation campaigns involve inherent costs. This includes the cost to keep the website running, like domain hosting, servers, equipment, and technical support. Furthermore, you have to consider the salaries involved to pay the people to follow up with the leads, and the cost of marketing automation software.
Brand awareness as you PPC KPI
As we mentioned earlier, being a PPC agency, we've worked with clients having goals that also pertain to building awareness. As crucial as sales is, the customer's journey almost never starts from a direct sale. It's about their reliability towards the brands and how they connect with the brand's value. 
For instance, brand lift data is a metric that we like to check to monitor the campaign's impact. We also check branded search volume trends, view-through conversions, assisted conversions, micro conversions, and audience engagement of users exhibiting purchase behavior on websites.
Campaign health metric as your PPC KPI
It's crucial to track the health of the ad campaign and this includes many parameters. They include click-through rates, CPCs, CPVs, CPMs, conversion rates, impression shares, on-site engagement, and quality scores. Although this is not always understood by our client due to its technical terminologies, it does help us as a professional PPC agency to determine the health of the ad campaign and drive ahead decisions that align with the client's brand marketing goals.
There are more metrics and KPIs that can help any brand achieve their marketing goals. As the marketing trends progress through the years, we'll bring you a fresh set of eyes to track and analyze your ad campaigns effectively.
Related Articles: