How Much You Should Spend for SEO Services
Bonoboz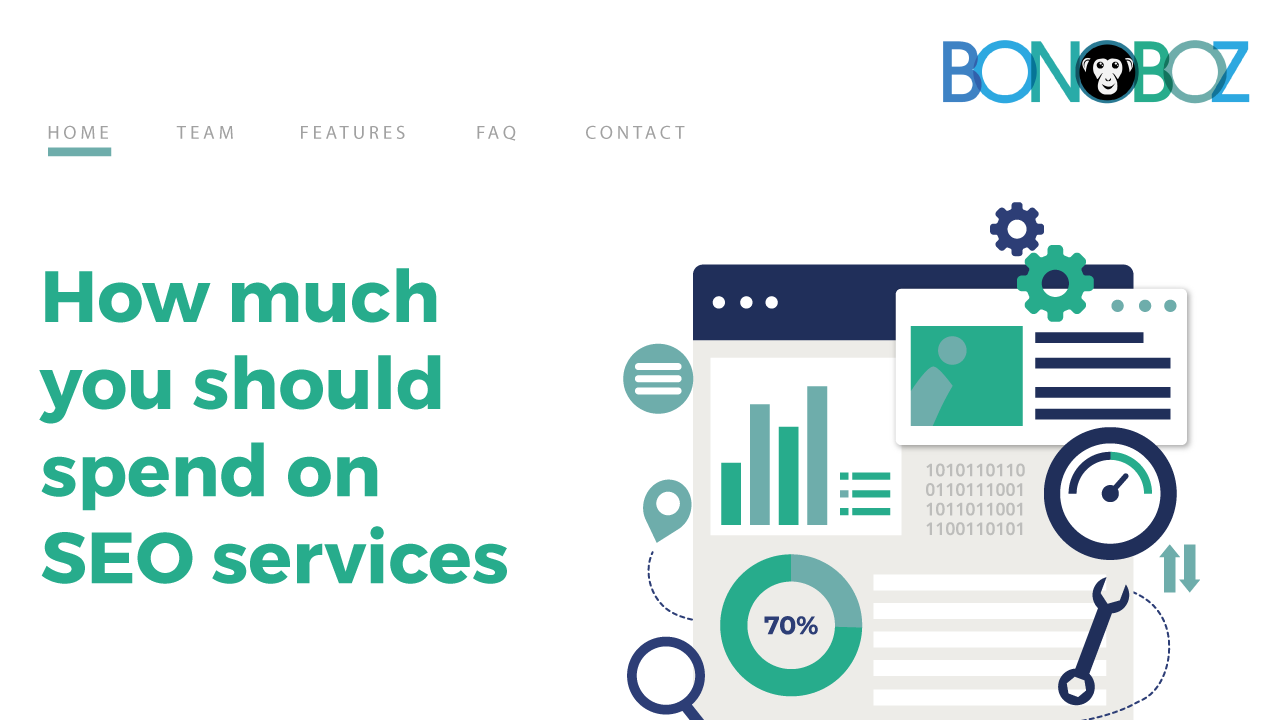 Engaging brilliant online marketing services is no more an option, but more essential if a business seeks to survive in the Internet-driven world that we live in today. The question that afflicts the mind of every business owner today is- "How much should my business invest on SEO?"

First, let's take a view of the various service payment models that are used by most SEO agencies:

Monthly Retainer Model

This is the model wherein you, as a client, pay a fixed amount of fee every month. And avail an already agreed-upon set of services from the SEO company in exchange for that money.
This payment model, called the monthly retainer, happens to be the most common kind as it gives you the highest Return on Investment. The arrangements made under the monthly retainer model normally include: Keyword Research, Routine Analytics Reports, Press Releases, On-site Content Improvements, Link Building as well as optimization.
Services offered on a Contract-basis at Fixed Prices

You will find nearly every SEO services company in India sell contract services. Oftentimes, before a client is confident about an agency, before they go for a Monthly Retainer, they tend to engage into Contract Services.
They expect to get certain work done within a specified time through availing contractual services. The SEO services that a company offers along with the respective price for each service are often seen advertised on their website.
For example, a business could ask to get an SEO website audit. It will help them determine the existing weaknesses as well as strengths in their online presence.
Per-Project Based Pricing

While this one bears similarities to contract-based services, there's still an exception. Instead of services, an SEO expert agency instead works on custom projects that are created especially for a given client.
The pricing, therefore, varies from project to project. Let's say, there's a local bakery in need of SEO services.
They ask an SEO firm to help them create an online presence and boost the local online marketing of their shop. For the purpose, the client decides to go for establishing social media accounts.
The bakery and the SEO company will now together decide on the scope of this project as well as the pertaining costs.
Most of the SEO agencies out there use the payment models listed above. Many clients may even work with an SEO company agency while opting for more than one pricing model.
It shouldn't be surprising, for example, if a client engages in a monthly retainer while purchasing a contract-based service, and entering into talks for a special project with the company – hence simultaneously entering into all 3 of the models we just discussed.
What are the things you should keep a careful eye on?

Whenever there's a discussion on SEO agencies and their subsequent pricing of services, it is never complete without paying heed to a few warnings. There are many indiscriminate SEO companies that deal in unethical business practices.
In order to help you guard against the likes of such agencies, we'd like to be wary of the following:
Are they claiming to be the best SEO company in India by giving you any result guarantees? Because they really can't as the industry and marketplace are in constant flux; there is no such thing as a 100% guaranteed result.
If an SEO agency promises you to get instant results, run. Because, even though there are certain SEO tactics which can game the system and get you fast results, they can as easily hurt you in the long run. Instant results generally involve practices which are against the webmaster guidelines that are put out by search engines. Google invariably seeks out such techniques and accordingly penalizes them. It can result in lost rankings for your website which could take months to recover.


If an SEO firm promises you the number one spot on Google search results, it is just great. It's not an impossible thing, and that's why it sounds great. The only thing to keep in mind is that it is not something that they can promise to just hand over to you. It takes time and due diligence, and there are still no guarantees they can give.
Do not fall for unbelievable deals that offer rock bottom prices. When it comes to SEO, the quality of services being provided should be given more considered over prices.


So, What Have You Decided?

For most of the businesses we see today, the biggest marketing effort to achieve a high ROI comes through SEO. The benefits of engaging in high-quality SEO practices far exceed the value of all other marketing approaches, such as online ads, direct mailing, broadcast advertising, etc. put together.

The question – whether a business needs SEO services or not – no longer exists. The question, instead, has morphed into, " how much should a business spend on SEO services".
To keep within budget is important, but money can't be allowed to play havoc with the quality of services. Therefore, as long as you choose a quality SEO company, your decision will ultimately lead to incredible amounts of revenue.
While we strive to be the best SEO company in India, we don't cost a bomb. Contact us now to learn more about our SEO packages in India and to get a quote.

Related Articles:
Related Articles: