How Responsive Web Design affects SEO
Bonoboz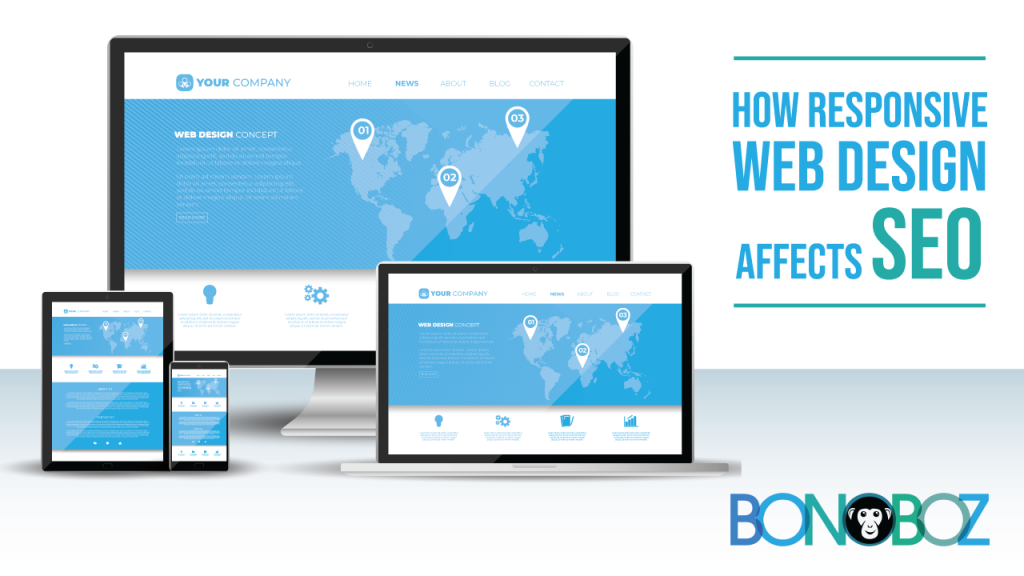 Responsive web designs help websites easily adapt to the size of the visitor's viewport. The content should appear differently depending on the screen size of the device that visitors are using so that they can have an optimal experience irrespective of where they access the website from.
Responsive web pages load quickly on mobile devices so that users don't have to manually resize anything to view the content.
Here are a few more benefits of mobile responsive web designs and how it affects SEO:
Site Usability
Responsive web designs not only make your site mobile-friendly but also prioritize readability and navigation for your visitors. If users are forced to constantly pinch and zoom to find things on a website simply because the website does not fit or adapt to their screen properly, they may not stay on your website for much longer. Mobile responsive web pages make it easier for users to navigate through the website. The ease of quickly being able to find whatever they are looking for, improves the overall user experience, keeping them on your page longer.
Faster loading pages
Most visitors will simply move onto another webpage before even reading the content if your website takes too long to load. If Google doesn't have to redirect to mobile-specific websites or try to condense large files (that were made for desktop sites) to fit into tiny screens, Google can load pages faster. Responsive web design reduces the amount of time it takes for pages to load on mobile devices, improving the overall experience.
Reduced bounce rates
Bounce rate is the number of visitors who navigate away from the site after reading only some parts of it. With a responsive website, visitors will stay on your site longer as they will not have to waste any time in being redirected to device-specific websites. This will help reduce your bounce rate as visitors will be more inclined to click through and read other pages on your site and explore everything you've got to offer.
Avoid duplicate content
Having multiple websites for different devices means creating duplicate versions of your own content. This could negatively affect your Search Engine Ranking. If all of your web content is available on a single domain, Google can crawl, index and organize your content effectively. Creating web responsive web pages can help you eliminate the need for creating separate URLs for mobile and desktop users. This way, your content stays original to one URL and you can avoid duplication.
Improves backlink profile
Google sees backlinks as a reference for good quality content which boosts your ranking. Responsive web design improves your backlink profile because you're building links to one domain and not dividing your efforts in building up two domains. It also becomes easier for other websites to link to you, as they do not have to guess which URL to pick. Having a common URL also keeps your local listings consistent with the same name, address, and URL is shown across the web.
Boosted social sharing
Though social sharing does not have a direct impact on your Search Engine Ranking, it can help to increase your credibility, audience as well as increase your visibility to prospective visitors. Responsive web designs make it easier to share links to your site's pages even on smaller screens. This helps in making your web presence 'viral' quicker than a 'non-responsive' webpage.
Easier to manage
Having two different websites for mobile and desktop requires having different SEO campaigns for both. It also means that any changes or updates to be made on the website will have to be done twice. This will not only require more efforts and manpower but will also increase the expenses. However, if your web design is already responsive for mobiles, you will only have to manage one common website that can easily be accessed from all devices.
Conclusion
With time, mobile browsing has taken over desktop browsing. There are usually more people visiting your website from mobile devices than there are from desktops. It is no surprise that even Google started an initiative for Accelerated Mobile Pages in order to promote mobile-accessible web pages. Which is why, making your web designs mobile responsive is not only an innovation anymore, but a necessity.
If you are looking to make your websites mobile responsive and improve your Search Engine Rankings, contact us for help on how to do it right.
Also Read: How Relevant is Good Web Design Today
Related Articles: