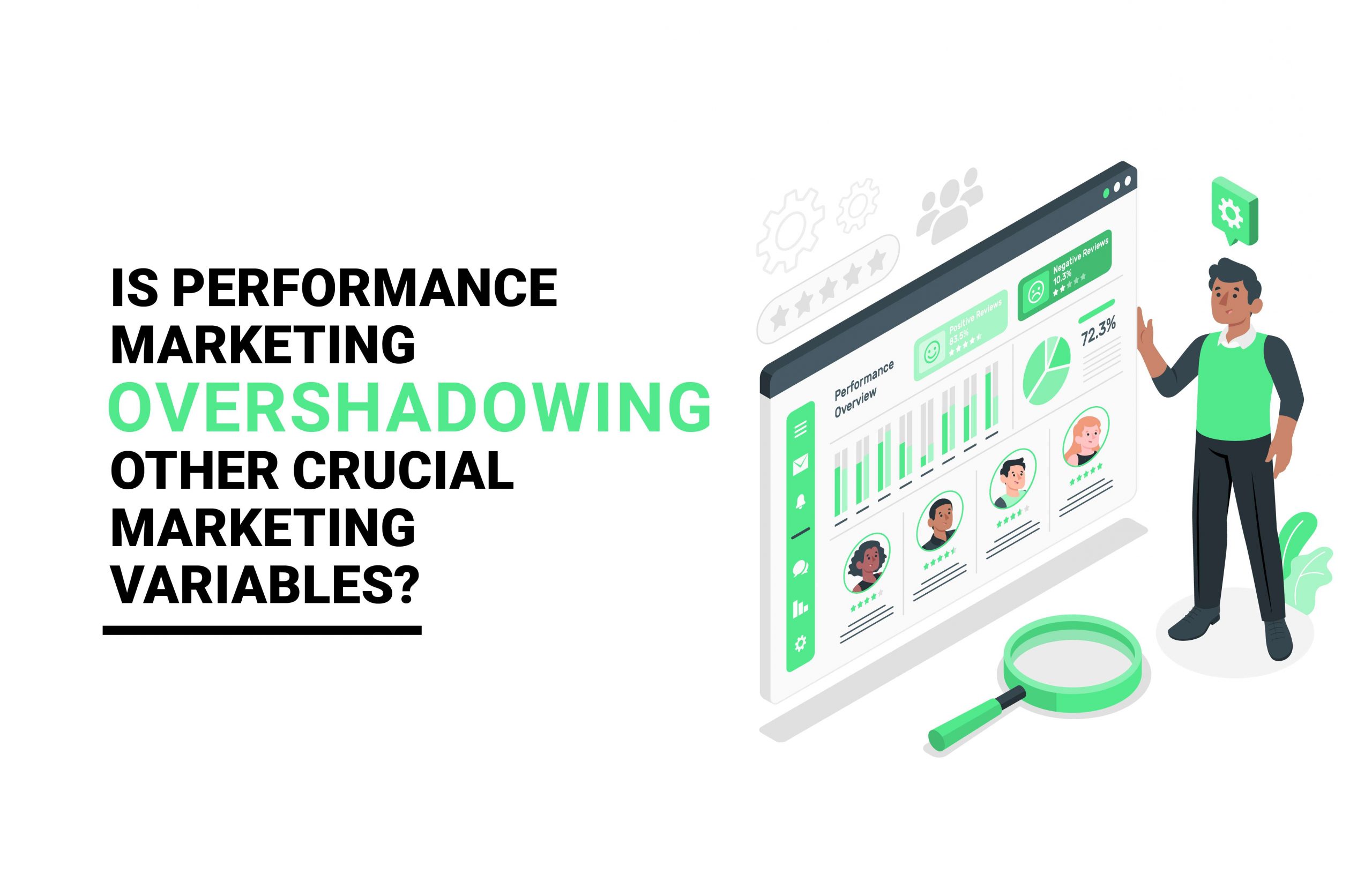 Is Performance Marketing overshadowing other crucial Marketing Variables?
bonoboz
Before the pandemic kicked in, businesses had been focusing mainly on performance metrics. The obsession with rapidly achievable metrics, impressions, and traffic has led brands to lose more revenue than anticipated. Read on to find out why.
Concept of brand marketing v/s performance marketing
Brand marketing is all about building your brand's image in the market. How do you get perceived by your target audience? Can they trust your products and services? 
You can strategise all of this with brand marketing. It helps you build an emotional connection with the buyers that pay off in the long run in the form of revenue. 
Performance marketing is more about quick tactics to get more conversions and lead generations. But are these short-term measurements getting your business anywhere closer to your goals? Time to think!
Helping brands reach their goals
When the pandemic hit, Airbnb slashed off its digital ad spending budget tremendously. 
But surprisingly, traffic was still almost the same! 
What do you understand from this? 
The digital media companies selling short-term digital "performance" metrics like hot cakes were not as genuine as claimed.
If you still think that KPIs like clicks are a measure of your brand's success, you're in for a bubble-burst moment. Bots and not actual humans generate clicks. You are misspending your advertisement budget. But does this mean that you should completely dismiss performance marketing? 
The answer is no!
Our popular ad agency in Ahmedabad can help your brand balance brand marketing and performance marketing for best results. 
Our online campaign management services are helping brands reach their goals.
What is online campaign management? 
We live in a digital media world, and brands are running digital ads 24*7. However, will this process overwhelm your target audience with surplus ads? Are you sure enough that the ads are serving your business goals? Questions about the way forward often leave you confused about the next step. That is why you need professionals on board to meet your digital marketing objectives.
We are a PPC company in India that provides all-rounder digital campaign management solutions. We offer proper target audience research, strategic campaign planning, and time-based execution. Our team of experienced digital marketers will analyse your brand's performance marketing strategies and optimise your digital ad spending for better results.
How can we help your brand with these services?
At Bonoboz, we plan to build your brand digitally with personalised solutions crafted according to your business goals. We will brainstorm a digital marketing strategy suited to your business that optimally focuses on performance and brand marketing.
Unlike most marketing agencies, we don't juggle contradictory branding strategies. Our agency knows the exact roadmap to guide you. Most marketers commit the blunder of segregating brand positioning and business performance. 
We will help your brand hit that perfect balance between these two strategies with our digital ad spending services and innovative performance marketing analysis services. It will help your business reach where you want it to reach.
The recipe for branding success
Have you come across those over-the-top "salesy" business website pages that are constantly pushing their offerings? You might have also seen creatively aesthetic landing pages that are a visual treat but have no clear CTAs to guide visitors? They're both doing it wrong!
The key is – balance 
The first example focuses too much on performance marketing, and the second example is putting all the efforts into brand marketing. And believe us, none of these strategies will pay off. We will help you leverage the best of both of these strategies through a more holistic omni channel presence.
Brands that focus solely on the top of the sales funnel, i.e. brand image and positioning, miss out on immediate results. Similarly, brands who invest their entire budget on the bottom of the sales funnel, i.e. pushing sales, lose valuable long-term connection with the audience.
At Bonoboz, we will ensure that your brand is not on either side of the spectrum but rather strikes that perfect sweet spot to achieve both short- and long-term results. If you want to scale business growth strategically, get in touch with us today!
Related Articles: