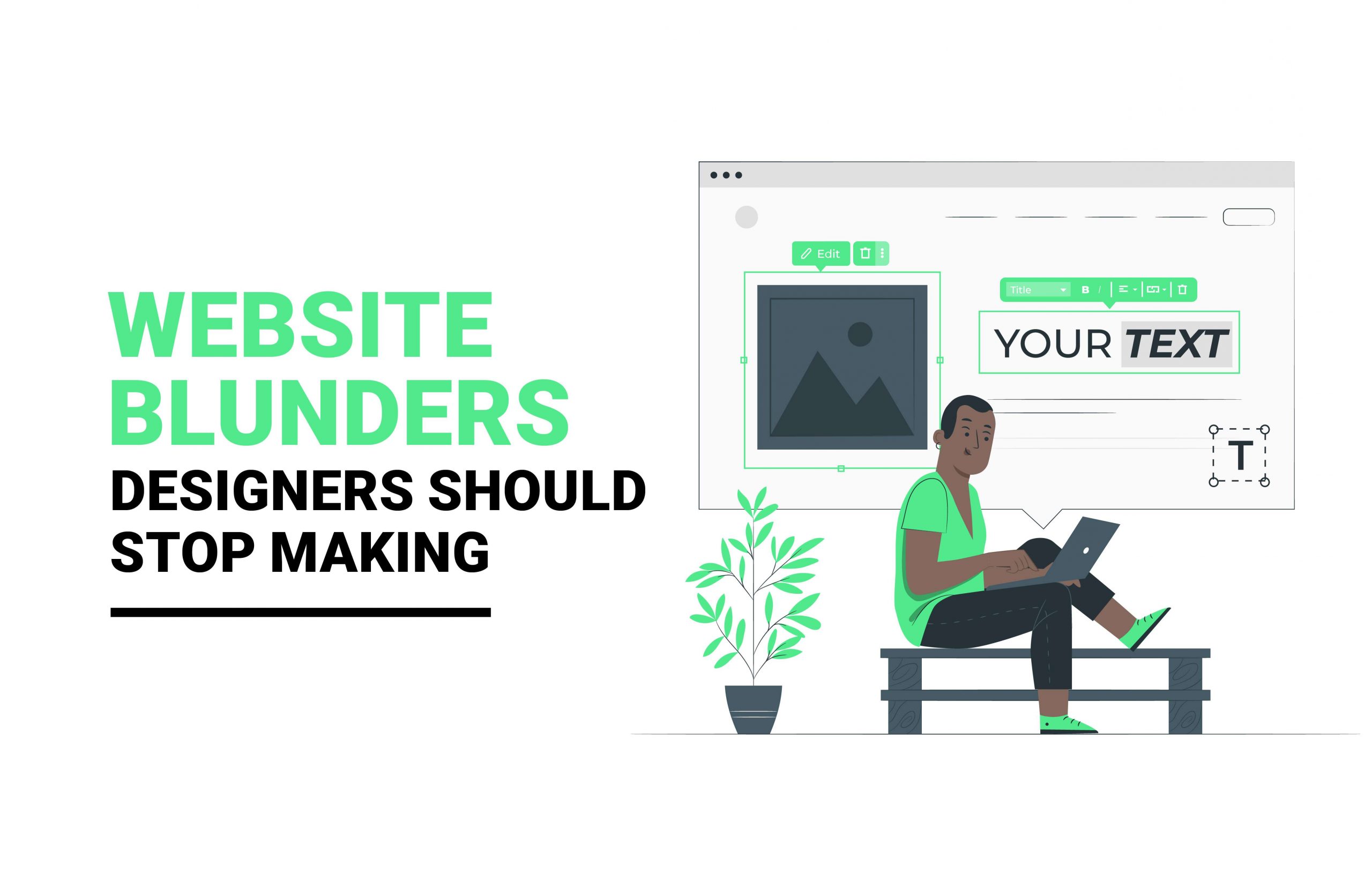 Website Blunders Designers should stop making
bonoboz
Today people are constantly bombarded with new content every single second. No one has the time to browse through a website that is not designed based on user preferences. 
So it stands to question whether the target audience stays or leaves your website before reaching the homepage. If your answer is a resounding 'YES' then your web design needs immediate fixing. You don't want to be losing out on leads, do you?  
That is why we've come up with a list of web design red flags that lead to a high bounce rate and how you can avoid them.
Website Designs red flags
If you've been committing these grave errors as a website designer, now's your chance to right those wrongs.
1. Content overload
No one will ever read those huge paragraphs or chunky sentences on a website. There is way more interesting content to consume on Instagram and other one-liner media! 
Keep your website content as skimmable and catchy as possible. Break the content down into digestible, short phrases. 

People are not on your website to improve vocabulary. So, the language needs to be simple.

Ensure that there is a good balance between the written and visual content.

Have you included too many steps before the sign-up process? Remember, you are only driving away your potential leads.
2. Minimum, bare content on the website
Does your website lie on the other end of the spectrum? In other words, have you provided way less content on the website, enough to confuse the audience about your brand's products and services?
If your content does not appear to be valuable by the search engine, it won't even recommend the page to your audience in the first place. Existing visitors too will leave soon.
It's great that you don't want unnecessary additional information added to the website. But how about focusing on quality and engaging content with purpose? 
It all depends on how you, as a designer, are learning and experiencing along the way. If you are looking to join a firm that can help you gain the necessary skills, join our web design Ahmedabad agency that works with several clients to build a relationship of trust between the brand and its audience.
3. Including CTAs that are not attention-worthy
Are your CTAs hidden in that one corner of the website, or are they hardly clickable? Now, that is a massive blunder. There is nothing worse than confusing your audience about how to take action on your website.
Have you strategically included drop-down menus or navigation bars? Try not to be too unique with your approach, but remember to keep the audience in mind. Improperly placed CTAs can lead to wasting potential leads.
Our web design company keeps it minimalistic when it comes to including elements in CTAs. Why so? It is a matter of seconds before your visitors lose interest and head over to other sites, Instagram, or the latest TikTok video. We make sure CTA buttons pop with the right shades, text, and style.
4. Too many ads on your website
Multiple ad pop-ups are a web design suicide. Nothing is more annoying than all sorts of pop-ups and ads on the screen when people are browsing through a website. Even the best web design will not generate any leads.
Allow ads on your website that do not appear in front of the content on the screen. If pop-ups are a must-have, make sure they don't stay on for too long or disrupt your website visitor's reading and viewing flow.
5. Too much or too little whitespace
Don't keep an abnormal amount of space between two web design elements. The white space should be just enough for a comfortable read. Also, don't cramp up too many design elements. The last thing you want is your audience getting overwhelmed. We will optimise the whitespace for the best readability.
6. Low-resolution images
Humans are so visual. Do you think you can attract anyone to your website for more than 30 seconds without effective and attractive image content? Here's how you do it; keep the images proportional to the written content and avoid bulky visuals. Our website design company will ensure that all the images are of high resolution.
7. Not using target keywords with high-value traffic
Is your web content powerful enough for the people reading it to take intended action? Perform regular research on the type of content that excites your audience. Make your content deep and informative yet compelling and exciting. Use a good mix of both promotional and informational keywords. Customise according to the latest industry trends.
There are several factors to consider and apply to lower a bounce rate. Our website design company has designers with the expertise to build a responsive website for brands. Join the team to enhance your capabilities and create awesome websites.
Related Articles: