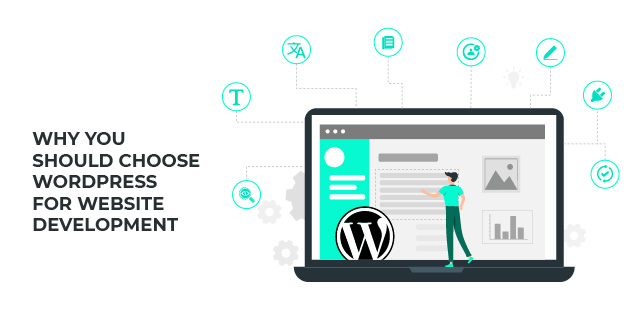 Seven Reasons why you should choose WordPress for Website Development
bonoboz
WordPress holds a significant market share of 60.8% of the CMS market. WordPress is not the only content management system out there; in fact, they're in the dozens. However, WordPress makes for a good choice for many websites, and in this blog, we're here to tell you why. So, strap on to learn more about why you should hire a WordPress website development agency. 
Why choose WordPress (WP) for Website Development
WordPress is the most sought-after content management system among several enterprises. We're here to expose the seven most salient features that make WP almost everyone's favorite.
WP comes with in-built themes & plugins
Unlike HTML websites where you need to add complicated codes to get a program or particular feature running, WP sites have their own themes and plugins. By using a pre-built website theme, you can create your own website quickly. These themes are customizable, and come with free as well as paid options. You can use the plugins to add interesting features to your existing website.
WP is an open-source platform, which means that it can be used for any project, from a personal blog to a business website. Now, WP is free to use and implement but you still need a WordPress website development agency to create and design your website. Why? It makes your website look more professional when done by an expert.
WordPress acts as an SEO-friendly content management system that helps improve your website and domain's optimization. It allows for the creation of a standards-compliant website with high-quality code. WP presents the means to create the proper heading, title, upload images and optimize them, and enable the creation of SEO-friendly permalinks, and other on-page SEO activities.
Personalize the website according to your objectives
You get flexible options to develop custom websites loaded with exclusive functionalities. There are premium themes available too that will help you attract the right look and feel that you want. By enhancing the overall appearance of the website, you can choose from a variety of plugins to add more functions to your existing or new website.
Upgrading options available
Just like every technological advancement, websites have features that are constantly updated. WP is in itself a self-updating platform wherein newer versions of the theme are available from time to time. Whatever is outdated is sent to you as a notification to upgrade. It's the same for plugins, keeping your website running with new developments and features.
Website-friendly functions
WordPress has built-in features and functions that allow users to perform several tasks conveniently. This CMS platform helps you efficiently update and manage blogs and website pages. You can revisit a blog you uploaded and make edits to it easily, including adding new images, replacing redundant information, and so on.
WordPress has an incredible community support platform worldwide that has WP users. The community provides guidance and contributes to the growth of the community and genuine users. On WordPress, users can find answers to all their queries and resolve issues as help and support is easily available on this platform.
If you want some stunning features and functions added to your website, then it is likely that a WP user has created a plugin to provide such functionality. You could integrate that plugin into your site to enjoy the features of that functionality. Apart from the WP community, the internet is also filled with countless blogs, articles, and other information resources that can address your WP-related queries.
Looking for a WordPress website development agency? Bonoboz offers a team of website developers who can do this groundwork for you, while you manage the rest of your business.
Related Articles: