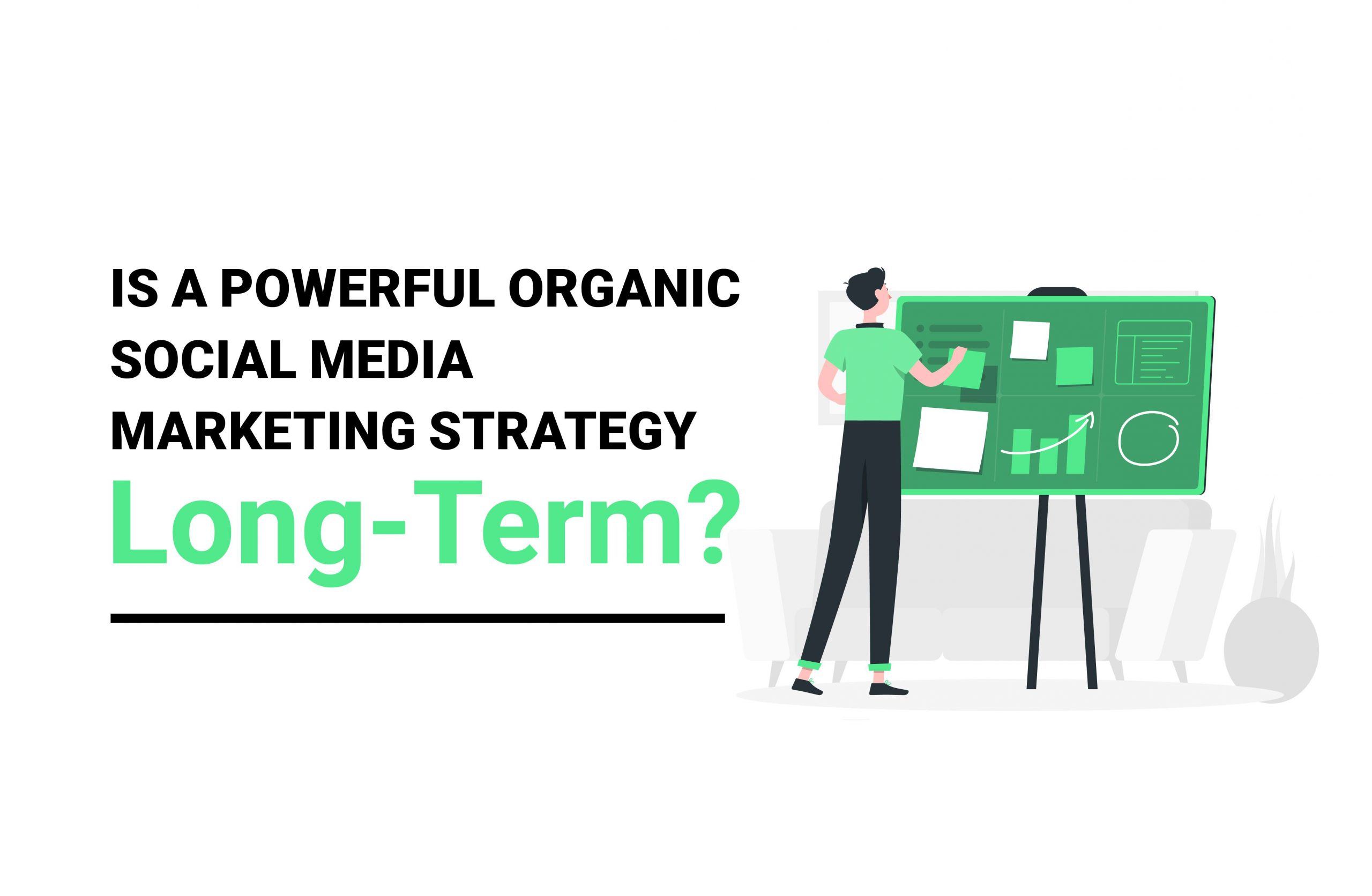 Is a Powerful Organic Social Media Marketing Strategy Long-Term?
bonoboz
Update your Facebook profile image with your latest selfie, and you get multiple comments from friends for days on end. 
Share a reel on Instagram of your recent trip to a hill station, and you get loads of heart-eyed emojis. 
Put up a promotional post on a client's Facebook page, and you get one 'like' from your team, possibly you.
Managing a client's page is a different ball game than posting life events on your personal account. First of all, the audience targeted are not personal acquaintances. That's why a social media marketing strategy needs to be crafted methodically. 
Second, a clueless audience about your brand requires you to connect with them on a deeper level that signifies trust and a long-term relationship. Remember, the audience is not your friend, so the dynamics played out are different. 
Without a strong strategy, we're outright relying on chance to work for us. How many times has a random social media post without putting any thought into it, worked out? Rarely! Why wait for a random post to work for the client when you have the potential to develop a solid social media marketing strategy?
Organic social media strategy versus paid marketing campaigns
Should marketers follow organic or paid solutions?
A social media marketing strategy cannot depend exclusively on paid ad campaigns. Organic optimization of social media posts has a far better reach and for a longer period.
While marketing leaders choose hybrid social media models with significant paid marketing efforts, smaller companies fall behind. This is because smaller agencies or organizations are financially constrained to run a social media marketing campaign every month on generous budgets. 
Several 'social media marketing agency near me' ads can help clients get the brand awareness they need. However, without a strong strategy, we would not advise you to invest in online social media advertising just yet – budget or no budget.
Therefore, if marketing leaders work towards a social media campaign for the client, an organic approach is the way forward.
Paid marketing campaigns pack a punch with target-specific audiences, locations, gender, interests, and so on. A paid ad campaign can boost your reach and engagement with the audience. However, every paid ad has a start and end date. An organic social media marketing campaign, on the other hand, can last for as long as the strategy delivers an impactful message. And, that's a long time!
Creating a social media profile and account is free. However, maintaining a social media profile organically is more impactful than a paid social media campaign's limited period and budget to achieve results. This is not to say that paid ads do not produce results. However, an experienced marketing leader will not solely depend on paid ads to run the business. A combination of organic and paid marketing efforts is the best approach.
Brand awareness and product consideration
As social media executives, marketing experts publish a diverse set of posts, be it on Facebook, LinkedIn, Instagram, Pinterest, etc. The content includes brand updates, announcements, offers, funding events, and more. 
All of these updates can amplify search results by helping the audience understand a brand's core values. Several brands also post about their new blogs in different styles, from infographics to embedded links and videos. 
So, a regular and consistent social media feed can influence buying decisions. In addition, it can act as a platform for buyers to interact with the brand regarding purchases and queries about products and services.
Serve the audience, branding will follow
Extensive and consistent social media activities can result in solid brand search results. Audiences will notice your brand if you are committed to a robust organic social media marketing strategy. This technique will help boost online rankings and optimise search engine marketing efforts too.
One of the best ways to amplify your search results is to think 'for the audience' rather than the brand. User-centric content on social media has benefited both sides – the audience and the brand. Exclusively posting about awards won will not show progress in terms of getting the audience's attention. 
It's great that the company won an award, but how does that help your target audience? The only fact the brand has proven is that they are good at what you do as they won an award. So how do you show the audience that the brand deserved the award? By giving to the audience what they want in terms of your products and services. Establishing your brand's awesomeness rather than telling the audience is how you can make it work for your brand.
As a marketing leader, you will ideate on multiple events to come up with robust social media strategies. However, your best way towards successful branding is by creating a powerful impact upon the audience through an organically strategic approach. Organic social media marketing is a long-term strategy for any brand, and its strong influence can travel from one customer to another. It depends on how you plan the way forward for the brand and improvise when needed.
Related Articles: