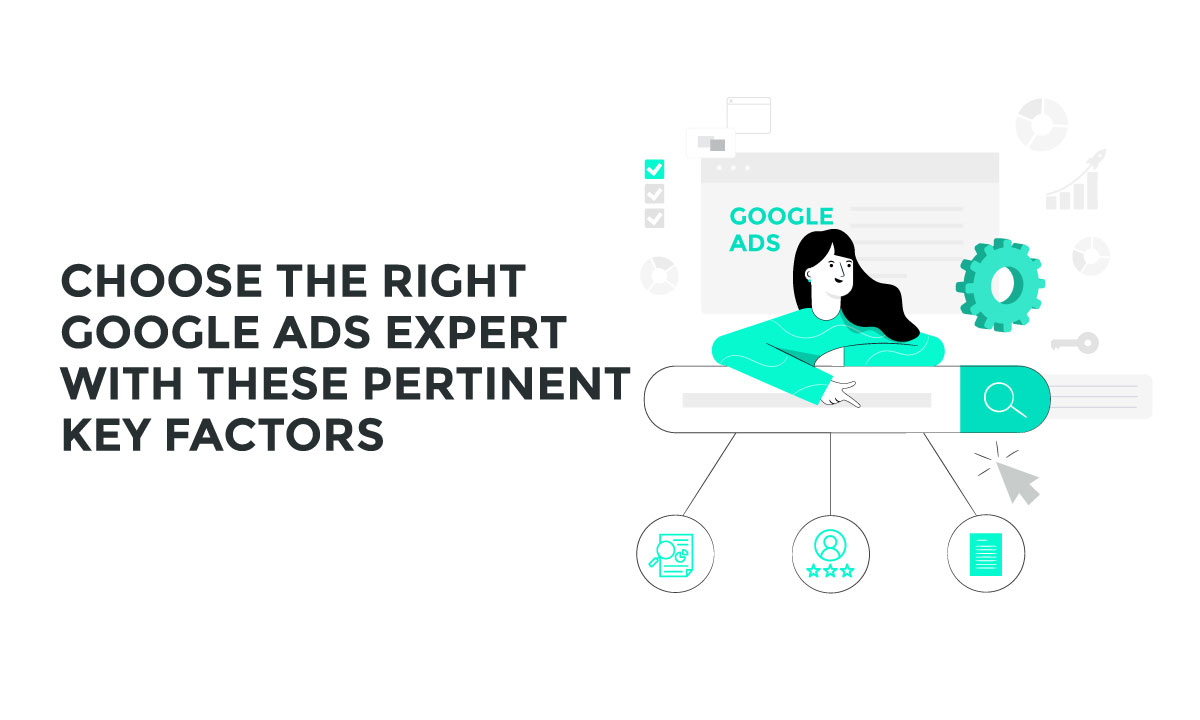 Relevant Key Factors to consider before hiring a Google Ads consultant
Abhik Basu
The digital ad has become the new age banner, the banner that would reach the eyes of the right set of audiences. Knowing the importance of digital ads and the growth that they can bring in, companies are investing in PPC campaign management agencies like never before. Google is the most used search engine, and Google Ads has become the most trusted option amongst businesses. Google Ads is known to have a conversion rate of over 3.5% and shares a whopping 75% of the total searches performed digitally. 
But with the word being spread, it has become difficult over the years to stand out using Google Ads. All businesses are fighting over the limited available resources. A Google Ads expert can help you get an edge over others in this saturated state. A Google Ads expert will guide and take your business to new levels by playing smart and not just following the rat race. 
The general question before adding Google Ads experts to the team is how different they will be from their SEO team. Though Google Ads and SEO are used interchangeably, both professionals perform different tasks towards the cumulative goal of business growth. Let's understand how different SEO is from Google Ads.
SEO or search engine optimization is an organic growth-directed method. In this method, the content in the website or blogs is curated well to be easily recognisable by the search engine algorithm. The search engine then ranks the website higher, increasing its reach. On the other hand, Google Ads works on the principle of pay per click. Businesses need to purchase the keywords that are more searched and relevant to their business. Purchasing the keywords lets the audience view your product or service when they search the same keyword in the form of an ad or promoted website. The ad appears on top of all the other organic search results. 
The next question that arises is what is more important, SEO or Google Ads? For a business to perform well digitally, both Google Ads and SEO need to be worked on. Paid promotions and organic growth bring sustainable growth when focused on a balanced fashion. So you need not hesitate to invest in a Google Ads expert for your company despite having an SEO professional team.
Now that you have understood the importance of Google Ads, do you need an expert to handle it for your business?
Understanding basic concepts and the functioning of Google Ad can seem lucid. But as mentioned before, the competition has risen so far that executing the entire ad yourself for the business is not a great idea. 
Some common mistakes performed while running Google Ads campaign include:
Improper placement of Google Ads tags.

Not placing the CTA or call to action appropriately.

Insufficient or excess running of ads.

Not using the correct keywords match.

Not testing the ad before running the campaign.

Not selecting the search networks option to run the ad.

Directing the customers to the incorrect landing page.

Stunning the ad with keywords.

Not calibrating the geotag feature well.

 Not working on an eminent bidding strategy and ending up purchasing the wrong kind. 

 Not including location, callout details or important product-related details like the price. 
Google charges a good amount of money for these ads, and the cost even rises if it's a highly competitive bid. Since a lot of money is involved, there is hardly any room for error. You cannot invest all this money and not receive the fruits of the campaign. Hence, entrust this responsibility to an expert who can deal with it perfectly. A Google Ads expert can help your business in the following ways:
You can concentrate on other aspects of your business without learning and working on Google Ads.

They will attract more clients to your business through strategic planning.

There is no hassle of updating your campaign according to changing trends; the expert will do it for you.

Since they are experts, they know when and how to place bids. They bring the best deals to the table.

They are cost-effective in the long run. Investing in an expert will bring you amplified results.

 Your digital presence remains secure.
Things you should consider before Hiring an expert in Google Ads
Since you have understood how important it is to have a Google Ads expert for your company, you probably might start firing one. You should consider a few things while looking for a good Google Ads expert.
Decide if you are looking for an agency or a freelancer 
A freelancer is an expert that can help you with your business growth. On the contrary, an agency has a group of experts who can cumulatively bring solutions to your business. That being said, the monetary expense of both freelancers and agencies is different. Agencies or a PPC management company charge you more in return for these additional opinions. So the real deciding factor is your current requirement of the service, the size of your company, budget capacity and the goal. A freelancer would be a great option if you are looking for conservative budget options and the company size is not very huge and vice versa. 
Analyse and create a picture of the type of Ad campaigns you wish to run for your business
Google Ads have different aspects to it, and experts are better at a certain niche. The different types of Ads include Search Ads, Video Ads, Display Ads, Shopping Ads, Application Ads, etc. To determine which expert is best suited for the task, you must first understand what you currently need for the business. Analyse the ad type and select the best fit of an expert on the niche. You can also consider these six PPC KPIs for your business to track and analyze.
Ask for the expert's portfolio to understand their work
Portfolio speaks a lot about the work they have done in the past. This will give you an idea of whether they are the best for the role. The portfolio will have details like the number of clients they have previously worked with. It will also include details of the growth they have contributed to the businesses they have worked with. You can also understand the patterns of cases they have dealt with and their expertise through their portfolio. It will give you an idea of what to expect from them. 
Certifications are proof too
Google itself offers over five to six certification programs for Google Ads. Certifications are no guaranteed trophy of expertise. Also, not having a Google Ads certification doesn't make one less of an expert. But certifications are proof that you know the field. Additionally, if it is the certification provided by Google itself, it is a better recognition.
Their work niche should resonate with your business
This is important to determine whether the expert will understand who your target audience is. Since this isn't organic growth where small mistakes can be overcome by changing post analysis, every penny spent should be carefully done. The expert you hire must have relevant knowledge about your business, and most are experienced in the niche for best results. 
Discuss work expectations prior
Before considering hiring an expert for your business, you must be first clear with your expectations. Vague expectations won't get you far. If you wish to see results, you must first quantify them to factors like conversion rates, quality score, return on Ad spend, etc. Setting these expectations sounds more professional and will help you find a suitable expert for the business. 
Budgeting is a very subjective aspect for every business. Discussing the budget you wish to allocate for the Ads campaign currently can influence the expert you hire. If you wish to run a big campaign, you might want to look for a group of professionals. A PPC management agency can come in handy for large projects. 
There is a possibility that you might want to try your hands with another expert or shift from a freelancer to an agency after some time. To deal with the situation better then, it is ideal to decide on the exit strategies at the time of hiring. Chart out policies that will respect each other's boundaries. 
The hiring process for a Google Ads expert might seem like a lot, considering the list. But this can be simplified with an expert PPC management agency like Bonoboz. Our company checks out all the boxes to consider before hiring the expert for your business. It has a great PPC campaign management team dedicated to bringing in the best for your business.
Related Articles: